Julius Coronel started as a fan fiction writer back in high school, exchanging Bleach and Naruto-inspired stories with his best friend every Friday. He stopped writing during College but rekindled his passion for writing with his discovery of Wattpad in 2014, where he wrote under the pseudonym Jay Hayabuza.
He would often post stories but then take them down again, not satisfied with the results. "#Perfectionistisme," he laughs. "I continued writing offline. I will post eventually, but I'm still testing the structure of what I've written offline."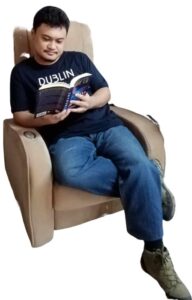 "I need to get the feels of writing a full-length book, even if it's just a novella. I'm originally a short story writer. I'm used to writing 2,000-3,000 word stories. Now I'm learning the 3-part structure. I'm testing the waters and going from there," he says with a smile.
Jay shares he's self-taught, writing by trial and error and watching AuthorTubes alongside for continuous improvement.
The Writing Experience
Jay smiled when asked if writing was easy or hard; he said, "It's easy because I enjoy it, especially during writing sessions when my ideas are overflowing and I'm in the zone. It's like my fingers are just extensions of my brain, and I word vomit."
"It's also hard. Especially on the days when I'm tired or not in the mood.  I need to get things written down and meet my word count, but sometimes life gets in the way."
Writing style
"I'm a plantser," Jay shares. "Being a pantser works for me as a short story writer, but it doesn't work for book-length works. I've learned to outline, which is my GPS, so that I don't get lost in my tale crafting."
"I learned that the story will be engaging if people can relate to the characters in the story, so I became more character-centric in my writing," Jay states.
He writes five days a week and aims to be between 250-2,500 words.  His sweet spot is 1,000 words.  He also gives himself a week off to just read and refill his creative well when he begins to feel writer's fatigue. 
Dystopia Manila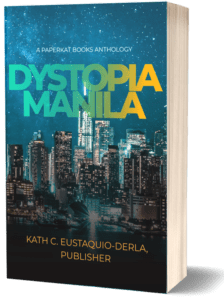 Never having written science fiction, Jay decided to give himself a challenge and submit a story about a husband and wife bounty hunter pair on a mission after a lover's quarrel. 
He asked himself, "What would be the domestic circumstances of a couple in a dystopian Manila? What kind of work would they do? How would they work together when they have an ongoing conflict?" The result was Bounty Hunters.
Takeaway
Whatever the setting or time may be, don't let any arguments or conflicts go unchecked because a lot can happen, and you don't know if they'll still be around for you to fix things.
Ongoing project
Jay is currently working on a fantasy book he laughingly called 'Project Anna'. He shares, "It's about a witch who needs to get her family inheritance from the government and must save a wizard who is also her ex-suitor."
Social Media
Jay is very active on social media, and below are his handle for those who want to follow him:
Facebook: Jay Hayabuza

 

Twitter: wpjayhayabuza13
Instagram: j.hayabuza013
Wattpad: jayhayabuza