Breakfast meetups are fun! When you are stuck waiting for the window so you can drive home (darned color coding), hanging out with friends is a good alternative. Where becomes the question. A useful app for locating a god place: Zomato!
Finding a good meet up place at 7 o'clock in the morning can be a challenge when you want a place with good food, comfortable and be able to carry a decent conversation. Most establishments simply aren't open for business yet. Thank goodness for the Early Bird Breakfast Club.
Things to appreciate about the #earlybirdbreakfastclub:
They are open as early as 7 am (this was the Eastwood branch).
The food is good and served very prettily. (Take a look at the pics and see for yourself!) #beautifulbreakfast
The staff is very attentive. They really pay attention to their guests.
The place is very clean and comfortable. Wonderful place to chat.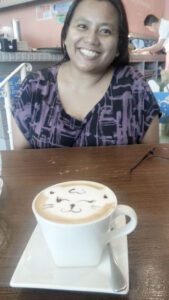 To begin our breakfast, my friend, Sky, ordered a cappuccino. We weren't expecting much but the latte art definitely had us both smiling. I teased her that the latte artist tried to put her expression on the coffee art. Breakfast was definitely off to a good start.
Choosing what to eat
It was tough to choose what to eat because everything sounded good. Their menu actually looks like a newspaper which is interesting, though it has been stripped down to strictly the menu (I found older versions online that had some activities such as a crossword puzzle for the guests to fill in), Nevertheless, after much debate and with the help of our waiter, we placed an order for the Bacon and Egg Nest and an Adobo Sunrise.
When we mentioned that we loved how beautiful the presentation of our food was, our waiter said that it is one of the points they take pride in. They try to ensure that every dish is a #beautifulbreakfast.
If I was to rate the place, I would give it 4 stars. Why only four stars, you ask. Here's why:
The place was clean, cool and very comfortable. The wait staff did not hover but they were very responsive.
I thoroughly loved my Adobo Sunrise. It was just heavy enough and delicious enough to justify the price.
The cappuccino was a nice touch. Coffee was good. The latte art on it made it really special. Kudos!
The Bacon and Egg Nest looked pretty. The salad was ok but the bread was soggy.
The presentation of the dessert was nice. Too bad it didn't have enough flavor in the filling. I'd have liked a little more lemon.
I thought the menu concept was interesting. I wish the waitress who took our order didn't take it back after we decided what to eat. I also hope they put back the activities section on it.
I would definitely go back and eat here again. I'm already planning to have their Halo-halo or perhaps order the chocolate cake. Yup, indulging my sweet tooth is a definite next visit!