Cioppino and bouillabaisse are often thought to be the same dish as they have similar ingredients.  While thought to be an Italian dish, cioppino actually traces its roots back to San Francisco in California.
When I cooked this for the first time my hubby and my father-in-law loved it so much that they requested that I cook this once a week!  Here is my version of this Italian-American dish.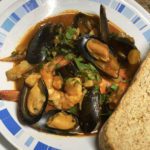 Print Recipe
Cioppino
Ingredients
1

head

garlic, chopped

2

tbsps

cooking oil

1

large

onion, chopped

1/2

cup

packed fennel, sliced

1/4

cup

celery, finely chopped

1/2

tsp

salt

1/4

tsp

black pepper, freshly ground

1/2

tsp

red pepper flakes

1/2

kilo

squid or octopus

slice the tentacles

1

small can

tomato paste

1

tsp

dried oregano

1

cup

dry white wine

2

bay leaves

1 1/2

cup

seafood stock or water

3

tbsps

flat-leaf parsley, chopped

1/2

tsp

lemon juice

1/2

cup

clams

soaked in water for 1 hour

1/2

kilo

tail-on shrimp

peeled and deveined

1

pack

local scallops

1

kilo

mussels

scrubbed and de-bearded

1/2

kilo

skinless flaky white fish such as cobbler, Pangasius, halibut or cod

cut into 1-inch pieces

1

baguette, sliced and lightly toasted
Instructions
Mince the garlic. In a large pot over medium heat, heat oil. Add onion, fennel, celery, salt, and pepper, chili flakes, and cook, stirring occasionally, until softened, 6 to 8 minutes.

Continue to cook, stirring constantly, don't burn the garlic and onions.

Reduce heat to medium-low and add the squid. Cook, stirring occasionally until squid is opaque and tender and the released juices reduce 15 to 20 minutes.

Add tomato paste and oregano and cook, stirring, 1 minute.

Add the mussels, scallops, and clams.

Add wine, raise heat to medium-high, and cook until cooking liquid is reduced by half, 5 to 7 minutes.

You can also add tomatoes with their juice, bay leaves, water or stock.

Bring to a boil, reduce to a simmer, and cook, covered in 30 mins.

Add the shrimps to avoid overcooking it.

Sprinkle the parsley leaves

Arrange the fish on top of the stew, cover, and simmer until shellfish opens and fish and shrimp are firm and opaque, about 5 minutes more. Discard bay leaves and stir in the remaining 2 tablespoons parsley.

Serve cioppino immediately in large soup bowls with bread.
Notes
Always taste your dish before adding more salt.
You can always have 3 varieties of seafood.
I bought the mussels in Säntis, local Scallops are available in S&R and Unimart. You can always buy seafood at any wet market, for me the best place to buy seafood is at Farmer's Market in Cubao.