When I think of soup I think of warm hugs and cuddles. Maybe it has something to do with chicken noodle soup being prepared for me when most people are sick. Chinese noodle soup or hotpot is so easy to make and does not require high cooking skills.
What I love about making this dish is that it is a complete meal in itself. You have your carbs in the noodles, you have the protein from the meat, chicken, or seafood (depending on what you choose to put), then you have the vitamins and minerals from the veggies.
When I cooked this I used an electric pot, but you can prepare this on a stove, too, if you don't have one. I believe in using what is available.
Note: You can substitute ingredients and adjust flavor to taste.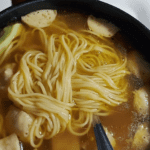 Print Recipe
Simple Chinese Hotpot
Just a quick and simple way of making hotpot without sacrificing flavor and richness.
Ingredients
Main Ingredients
2 - 3

ball

Noodles

I used Thin Egg Noodles that come in balls (2 - 3 balls)

Assortment of frozen seafood (fish balls. Shrimp balls. Fish cakes, crabsticks)

thawed

1

cube

bouillon

shrimp or chicken

1

tbsp

light/premium soy sauce

1

tbsp

dark soy sauce

1

tbsp

mirin or oyster sauce

1.5

liters

water

or 6 cups

salt and pepper

to taste

1

tsp

sesame oil
Optional
.5

cup

Cabbage

sliced into strips or bite-sized

.5

cup

Mushrooms

sliced

1

tbsp

Scallions or chives

sliced, thin
Instructions
Process:
Since I am using the electric pot, I first set the function setting to "high". Later on, I switch it to "low" when simmering.

Turn on the stove and pour water into the pot.

Bring the water to a boil.

Drop in the bouillon cube. I usually crush this to make it dissolve faster.

Add light and dark soy sauces and mirin. Stir.

Lower the temperature to medium-low heat.

Add seafood and mushrooms. Simmer for about 2-3 minutes

(Optional) Add the mushrooms. Stir.

(Optional) Add cabbage. Do not stir. Push down the leaves so all is submerged and can cook evenly.

Add noodles. Continue simmer at medium heat.

Add salt and pepper to taste.

Turn off heat after 3 minutes. At this point noodles are only halfway cooked. Noodles will continue cooking from the residual heat.

When noodles have absorbed sufficient water, add sesame oil. Stir.

Serve into bowls, and top with chopped chives.
Notes
VARIATIONS:
For Beef.
You can substitute beef strips (sukiyaki cut or samgyupsal) for the sea food, and beef broth/bouillon for the soup stock.
For Pork.
Same for pork, you can use any pork cuts such as bacon, salty ham, sausages, and pork bouillon or pork stock.