As I get older I find that I tend to lean more towards healthier dishes … in part for better health, but mostly because the price of meat has skyrocketed!  While I am wont to enjoy vegetable dishes sadly the rest of my family are not so inclined.  I don't want to trick them with veggie meat (mom already tried it and didn't like it) so the next best thing for my carnivorous family … tofu!
In the past, I've made tofu steak, stir-fried tofu with eggplant and mushroom, etc.  But often I find that if not for the tonkatsu sauce or oyster sauce to top off the dishes, the tofu would be bland.  This led me on a search for tasty tofu dishes.
How this dish evolved
Whenever I try new dishes at home I usually like to work with ingredients that I have on hand rather than wait until I could run to the grocery to get the additional ingredients I need.  This usually means that I go through a lot of recipes in recipe books I have here at home and online to find the one that suits my needs the best.
One such dish is this garlic pepper tofu.  One frustrating thing about tofu is how in most recipes, no matter how flavorful the sauce is, the tofu itself is always bland.  So I searched and searched and searched until I found this recipe for salt and pepper tofu on thewoksoflife.com which I then modified based on what ingredients I had on hand and made it more garlicky than salty.
What's in my pantry
Obviously, I had most of the ingredients from the original recipe. I just cut out the chilies which add spice and color to the dish because, well, it was New Year's Eve and I didn't want to go to the grocery again.  Plus, I was already elbow-deep in cooking other dishes at the same time.
I just wanted to highlight a few ingredients …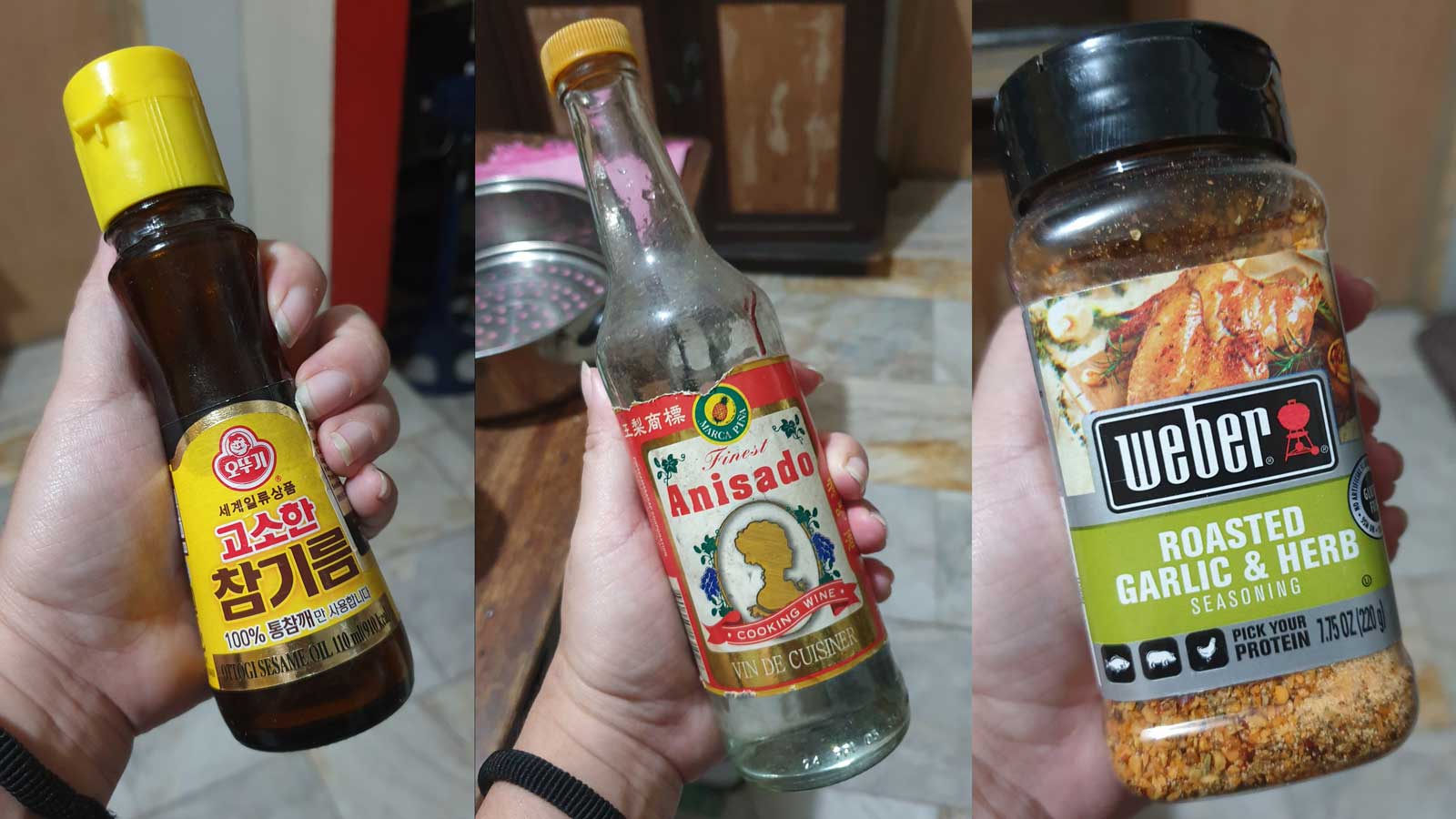 Sesame oil is readily available in most groceries.  The one I used here is a Korean brand (I think) because that was the last one I bought at Robinson's Easymart down the street.  Popular brands of sesame oil are Lee Kum Kee and Good Life.
Cooking wine might be a little more difficult to find but is readily available at Hi-Top Supermart.  In case you weren't aware of it yet, the price of most grocery items is less expensive in Hi-Top than in any other grocery.  Cooking wine comes in red and white.  For tofu, I personally think white cooking wine is a better choice but if what you have is red, go ahead and try it.
Now, if you don't have cooking wine but you do have regular wine, I say have at it!  😀  It just means that your food will have a stronger wine flavor.  As for rice wine vinegar, no, you cannot use that as a substitute for cooking wine.  It will make your food more acidic.
Weber Roasted Garlic & Herb Seasoning was something we purchased at a whim at S&R which we use for seasoning meat when we are in the mood to grill.  But who says that's the only time we could use it, right?  Fair warning, though, this seasoning is a bit pricey at P350 per bottle.
Most of my spices are from McCormick as that is the most readily available brand here.  My dream is to one day have a spice rack filled with every spice imaginable.  😀  Other than McCormick, I also get some special seasonings from Badia and Weber which I get from Landers and S&R respectively.
What really caught my attention is how Bill (the author of the post on thewoksoflife) managed to infuse the tofu with flavor so that is what I did my best to imitate as well.  This dish turned out so well that I was not able to take a picture of it before the horde could attack it, lol!  I hope you enjoy this recipe!  Do let me know how it turns out when you try making it yourself.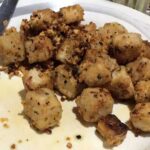 Print Recipe
Garlic Pepper Tofu
This dish is proof that vegetarian dishes can be exciting! And zesty!
Equipment
shallow bowls or food keepers

strainer

frying pan or wok
Ingredients
Brining
1

block

firm tofu

slice into bite-sized cubes

1/4

tsp

garlic powder

1/2

tsp

onion powder

1/2

tsp

salt

1

tsp

sugar

1 1/4

cups

warm water

1/2

tsp

sesame oil

1

tsp

white cooking wine
Seasoning and dredging
1/2

tsp

salt

1/2

tsp

ground white pepper

1/4

tsp

cracked pepper

2

tbsps

all-purpose flour

2 to 3

tbsps

corn starch
Cooking
oil

5

cloves

garlic, chopped

1/4

tsp

salt

1/4

tsp

ground white pepper

1/4

tsp

cracked pepper

1

tsp

Weber roasted garlic and herb seasoning or Badia garlic pepper seasoning

this is, of course, optional, but personally, I like the extra zest and crunch. In lieu of that, you may replace it with more garlic and cracked pepper. 🙂
Instructions
To get some flavor in the tofu, the first step is to brine
Make sure to slice your firm tofu into bite-sized cubes, which is approximately half an inch.

Combine the garlic powder, onion powder, salt, sugar, and warm water in a shallow bowl and mix.

Place the sliced tofu in the same bowl and mix it gently so that each piece of tofu is coated in the brine, not just the bottom. Cover the bowl and let it sit for 1 to 2 hours.

After 1 to 2 hours place a strainer over a bowl and pour the tofu gently to drain and let it stand for 5 minutes

In another bowl, combine the sesame oil and cooking wine and mix. Pour the drained tofu in the mix and gently mix to coat.
We dredge to get that crispy outer coating
Combine the salt, white pepper, cracked pepper, flour, and cornstarch. Sprinkle over the tofu soaked in sesame oil and wine and use a spoon to turn the tofu so that all of them are coated. You can also give the bowl a gentle shake or two (or three) making sure not to crumble the tofu. The combination of ingredients will create a white paste that is meant to coat every single piece of tofu.

If you think the batter is too wet or if you want your tofu to be crispier, go ahead and add a little more cornstarch.
It's time to get cookin'!
Mix the salt, white pepper, cracked pepper, and optional seasoning and set aside.

Place oil in your wok and heat up for around 30 seconds on low heat only. DON'T GET TEMPTED TO RAISE THE FLAME/TEMPERATURE! That comes later.

Put in the chopped garlic and move it around the pan to cook evenly. If the heat is low, it should not burn. Cook it until it is light golden brown. Voila! Crispy garlic!

Use either a slotted spoon or a fine mesh strainer to fish out the garlic and set it aside for now. Make sure to leave the oil in the pan! You're going to need them for the next steps.

Heat the oil to medium-high heat, you may add oil if you feel the need to. Place the tofu in the pan in a single layer, making sure each one is touching the oil. Once the bottom part is browned flip each piece to brown the other side.

When all the tofu is browned on all sides put the crispy garlic and remaining spices in the pan and toss everything for about 15 seconds. Scared to toss like the chefs? Not to worry, stirring with a spoon or spatula will do as well. 😀

And you're done! Serve your dish and watch the fam eat it with gusto!
It may seem at first as if preparing this dish takes too long, but trust me when I say that brining is an important step.  Brining is also very simple to do – combine the ingredients then forget it for 2 hours. 🙂