In the new normal setting, we are required to practice social distancing and wear face masks in public to better protect ourselves from COVID-19. While makeup may seem unnecessary, it can make a huge difference in improving our mood and boosting our confidence. Even with a face mask on, you can still rock a pretty makeup look with Ever Bilena and EB Advance products.
Wear a light foundation.
We know, wearing masks can get hot and uncomfortable. So opt to wear light-weight, non-comedogenic coverage such as Ever Bilena All Day Liquid Foundation or EB Advance BB Cream to allow your skin to breathe and be comfortable underneath the mask.
Eyes are the focus.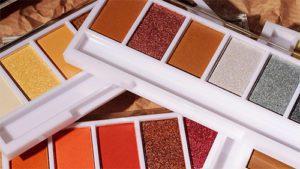 Playing up your eyes is one way to make your look stand out. Beginners can try a monochromatic look by sticking to the same shades in the EB Advance Eyeconic Palette and applying it on the lids and underneath the eyes.

Meanwhile, seasoned makeup users can try more complex looks, blending all the shades of the same EB Advance palette and finishing it off with a winged eye using the Ever Bilena All day Eyeliner Pen.
Glow from beneath.
Give yourself an extra boost of confidence by dabbing on the EB Advance Glow Out Highlighter on the high points of the cheeks, brow bones, and bridge of the nose. You can also opt to go for a flushed skin with the Ever Bilena Blush Rush Tint.
Take care of your lips too!

Even when your lips are hidden underneath the mask, it needs some care, too. Our lips are prone to chapping and drying so make sure to apply a lip balm or a gloss like the EB Advance Vinyl Lip Gloss to keep it moist and protected.
0 – 0 – 0
Give yourself a boost of confidence even while wearing a mask by trying out these products from Ever Bilena and EB Advance available on their official page on Lazada.
For more updates, like and follow Ever Bilena and EB Advance's Facebook pages (@everbilenacosmetics and @ebadvance) and Instagram (@everbilenaofficial and @ebadvance).