Kojie-san has always been committed to making its products better than ever. After introducing the newest kojic acid skin lightening innovation called Zero Pigment Light, this brand is once again pushing itself further to Go Beyond Ordinary with its improved line of lotions.
Kojie-san Skin Lightening Body Lotion with HydroMoist and Kojie-san Skin Lightening Body Lotion SPF25 with HydroMoist are now infused with the Zero Pigment Light technology.  Its latest Kojic Acid skin lightening innovation that zeroes in on your dark spots, age spots, scars, melasma, and hyperpigmentation giving you a lighter even skin tone.
Moisturizing the skin is an important step in keeping it soft, radiant, and healthy-looking all day long. Both Kojie-san's lotions contain HydroMoist, a new formulation that gives hydration to your skin while locking in the moisture. Kojie-san Skin Lightening Body Lotion with HydroMoist has a light, non-greasy formula that's easily absorbed to help restore and strengthen your skin barrier and minimize the appearance of rough skin and stretch marks.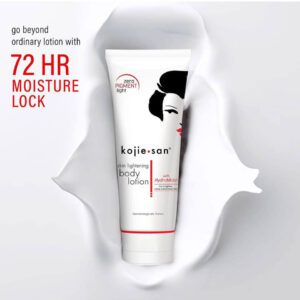 What's more, it delivers on a unique 72-hour moisture lock that keeps skin soft and smooth longer. Meanwhile, Kojie-san Skin Lightening Body Lotion SPF25 with HydroMoist also contains UVA/UVB filters to protect your skin from harsh environmental factors that can lead to skin damage and hasten the onset of wrinkles and other signs of skin aging. Plus, both lotion variants are dermatologically tested, hypoallergenic, and paraben-free.
To achieve the full benefits of Kojie-san's carefully formulated products, it's best to use either of these lotions with popular soap variants Kojie-san Skin Lightening Classic Soap and Kojie-san Skin Lightening HydroMoist Soap for a softer and more even-toned complexion.
Why settle for something less when you can Go Beyond Ordinary? With Kojie-san's improved skin lightening body lotions, you can achieve a healthier glow while addressing your specific skin concerns.
Get exciting updates and information at @Kojie-sanPH on Facebook and Instagram at www.kojiesan.com. Kojie-san is available at all leading supermarkets and drugstores nationwide, as well as Kojie-san's official LazMall on Lazada and Beauty MNL.