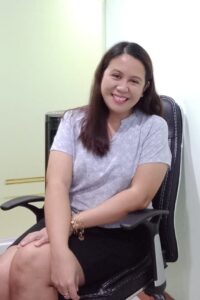 Fiction writer Ara Larosa hails from Sorsogon. Currently, she works as an HRDO in a private company while taking her master's degree in development communication through the University of the Philippines Open University (UPOU).
Are started writing at age 11, taking inspiration from the books she loved to read, particularly Nancy Drew. She joined a story-writing contest in elementary and wrote mysteries in high school which are unpublished. She also wrote fan fiction on Wattpad.
"As a birthday gift to myself, I attended a workshop on self-publishing in 2019," she shared. "That's where I met Kath Eustaquio-Derla (PaperKat Books). This is what pushed me to start taking my writing more seriously."
She enjoys writing short stories and has been part of several anthologies, including Dystopia Manila, Love In Style Vol 1, and Deck the Halls Vol 2.
Dystopia Manila – Flooded Mind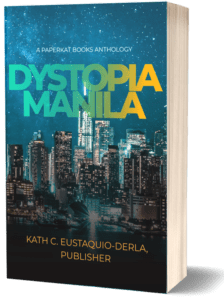 Flooded mind asks the question: What if the waters rise and the lands float? What if a device can be created to control the floods?
What was the easiest part to write? Hardest part?
Ara admitted writing in sci-fi was a challenge since it's not her comfort zone. "I had to do a lot of research to make the story realistic."
"The easy part was adding a touch of a love story. And creating the names for everything in the story was the most fun, taking inspiration from the Bible and people around me."
Ongoing project
Ara is currently working on a novel under PaperKat Books,
Advice to aspiring authors
Always believe in yourself. You can do it! It's okay to try again until you write the perfect story. Jot your ideas down quickly. Have your phone handy – that's what I do.
Social Media
Readers can follow Ara through her Facebook page: https://www.facebook.com/arawritenow
Readers can buy Ara's stories directly from her or through the following:
PaperKat Books – Lazada
Dystopia Manila
Love In Style Vol 1
Deck the Halls Vol 2
A Girl Named Anna
Ukiyoto Philippines – Website
8Letters