Jillian Talavera is a grade 8 science teacher at OB Montessori. With a degree in BS Biology, it is no surprise that she chose science fiction and fantasy as her genre.
What made you start writing?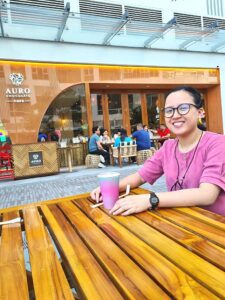 "It started in my 3rd year of college. I was at a stage where my studies became very technical. I wanted to apply the words In such a way that I could understand and remember them better, so I used poems," she said.
"Later came this idea of applying words in my field, neurology. I wanted to formulate them into a story. I created a short story which is now becoming my book."
Writing poetry is still a hobby, and she has uploaded some of her poems to Hot Pages.
Writing habits
"I think better when it's really quiet. It's not effective for me to write in a coffee shop," she shared with a laugh. She said she prefers to write at home. 
"I need a clear desk to work to be able to focus. I actually prefer to write on paper – the laptop has too many distractions (like email). I chose to revert because I spent too much time on a computer during the pandemic."
Jillian likes doodling and gets satisfaction from slashing words and changing them.
Dystopia Manila – An Abandoned Paradise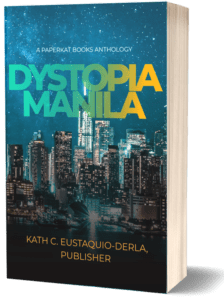 Jillian actually started without a title.  She came up with a title when she knew how the story would end. She wanted the contrast of the words to show there are things we neglect at some point in our lives but also show we have that perspective to want something beautiful.
The question she came up with was: "Will it hurt if you follow a journey back to paradise?" It's about being brave, learning about the animal, and still having the courage to help. It's about the values they want to establish.
"They (the main characters) are students who want to make a change. Application is important. Even though we have textbooks to teach us the concepts and theories, it is wasted if we just stop there."
"We should stand on the shoulders of the people who came before us, using the knowledge they passed on to make sure that lives become much better for all of us; to maximize our resources, but at the same time, be more responsible with what we learned and also with what we do to our environment," she states.
Was it easy or hard to write the story?
"At first, it was hard. Formulating the concept was quite hard, but I already knew how I wanted it to end.  I knew, in general, that I just wanted to be full of hope. I wanted to highlight that students can make a change even if they're very young, and I wanted to believe in the goodness of students."
Ongoing Project
Jillian is working on her full-length science fiction novel with PaperKat Books.
Social Media
Readers can follow Jillian through:
Dystopia Manila is available through Lazada.