Before the quarantine of 2020, my last haircut was September 2019 (I think).  After more than a year with me just pulling my hair back in a bun when I didn't want to be bothered with it my hair looked as tired as I was – dry, turning gray, frizzy, and simply out of control.  I was also experiencing hair fall already because my hair was just too long and too heavy.  I contemplated just cutting my hair myself, but I didn't want to get upset if my hair got messed up because of it.
At my friend, Janjan's recommendation, I traveled almost 15 kilometers to try out Salon-O.  I was iffy, at first because my hair is curly/wavy, and my personal experience is that very few people know how to cut curly/wavy hair properly.  When the hairdresser does not know what he/she is doing my hair misbehaves afterward by getting split ends, becoming stringy, etc.
The Salon
This is what Salon-O looks like from the outside.  The right side, starting from the doors, is the reception area, on the left is where the magic happens.  At the back of the salon is the shampooing station.  The main color scheme of the salon is black and white – the chairs are black and everything else is white, except for the products.  They do not have their own parking spaces but street parking is allowed.  We were able to park right in front of the store.
Hair assessment
After the initial "hi and hello" and a little "getting to know you" Ms. O (as Ms. Olive is often referred to) sat me down on a station and assessed my hair.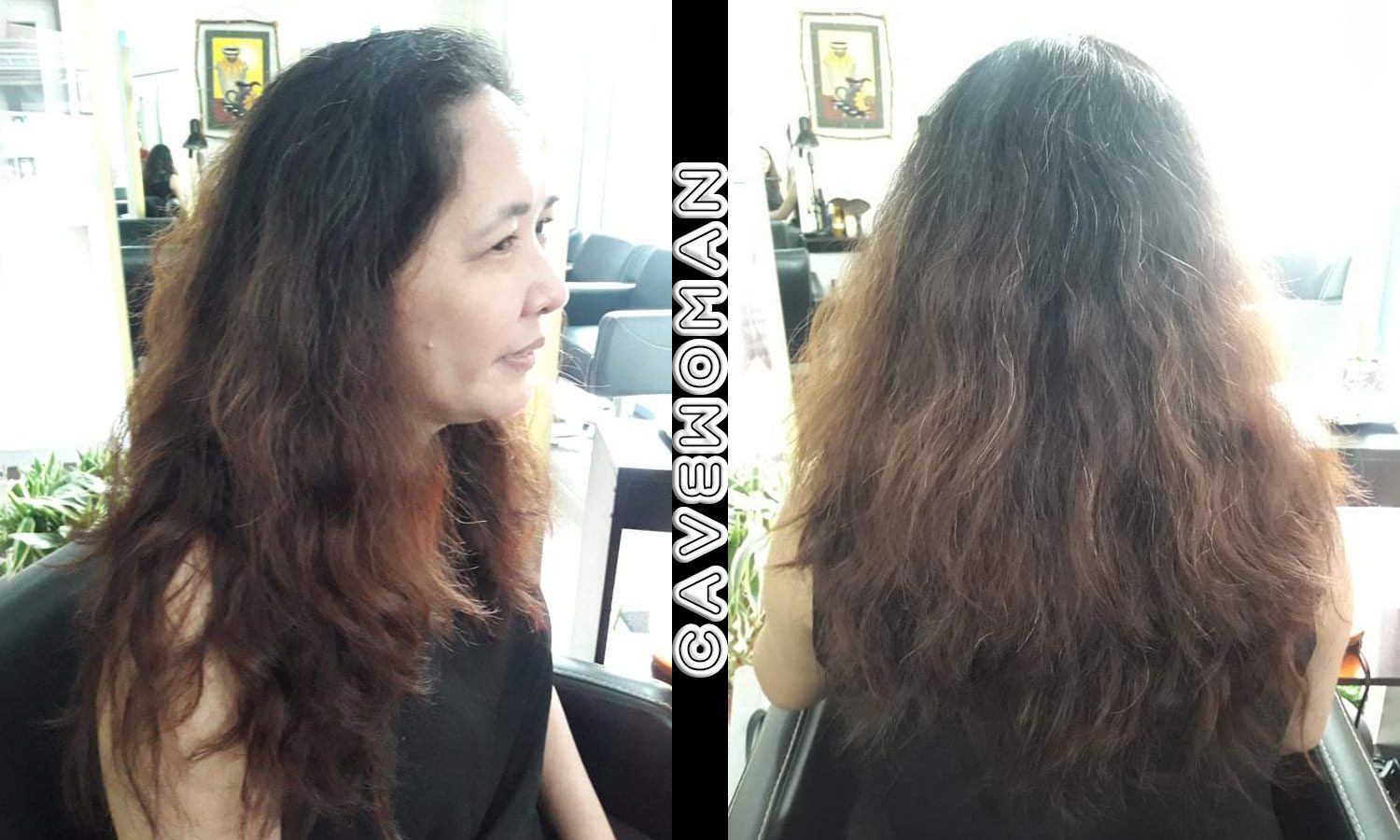 Uncontrollable curls, dry ends (but thankfully no split ends), uneven color, gray strands scattered here and there … oh, the horror!  Hence, my often pulling my hair into a bun (to hide my shame, j/k!)
Verdict, I need …
coverage to hide the random gray hair.
treatment to put moisture back into my hair.
color, to even out my hair color.  Ms. O chose a natural brown for me to match my roots.
hairstyling to make my hair more manageable.
Disposables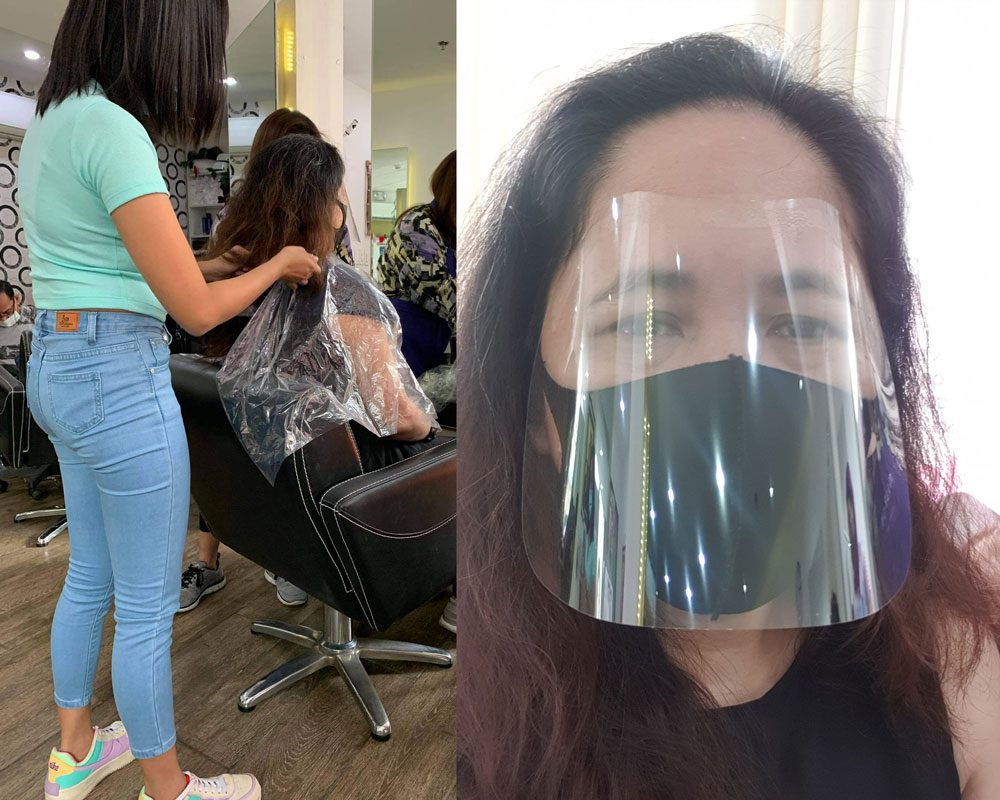 Before any of the treatments were started I was provided with a couple of disposable items – a plastic smock that is worn over your clothes and under their standard smock, and a face shield that is attached to your forehead after they wipe any sweat or oil off your forehead first. 🙂  A minimal fee of ₱50 is charged for these items.
These items are provided in an effort to comply with the minimum requirement of the IATF to minimize the possibility of spreading illness (like COVID-19).  If the client does not want to pay for these items they can just go ahead and wear the one that they brought themselves, but it might get in the way of the haircut as most face shields are attached to glasses frames and hooked over the ears.
Service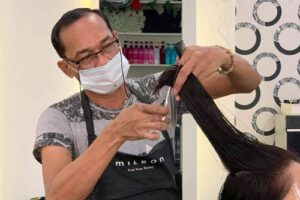 As with most hair treatments, it starts with a shampoo which I find very relaxing.  Ms. O. did my gray coverage herself. My random gray hairs were not completely covered but most of them were, which was good enough for me. 🙂
Afterward, I was put in the very capable hands of their resident hairstylist, Fernan. A snip here, a snip there, several inches of my hair fell to the ground by my feet.  He did a wonderful job cutting my hair!  No wonder so many of their clients ask for him specifically.  I am happy to find another hairstylist who knows what to do with curly hair aside from telling me to have it rebonded or straightened.
The entire process – from assessment, gray coverage, treatment, color, to final blowdry – only took a couple of hours.  This is what my hair looked like after all that.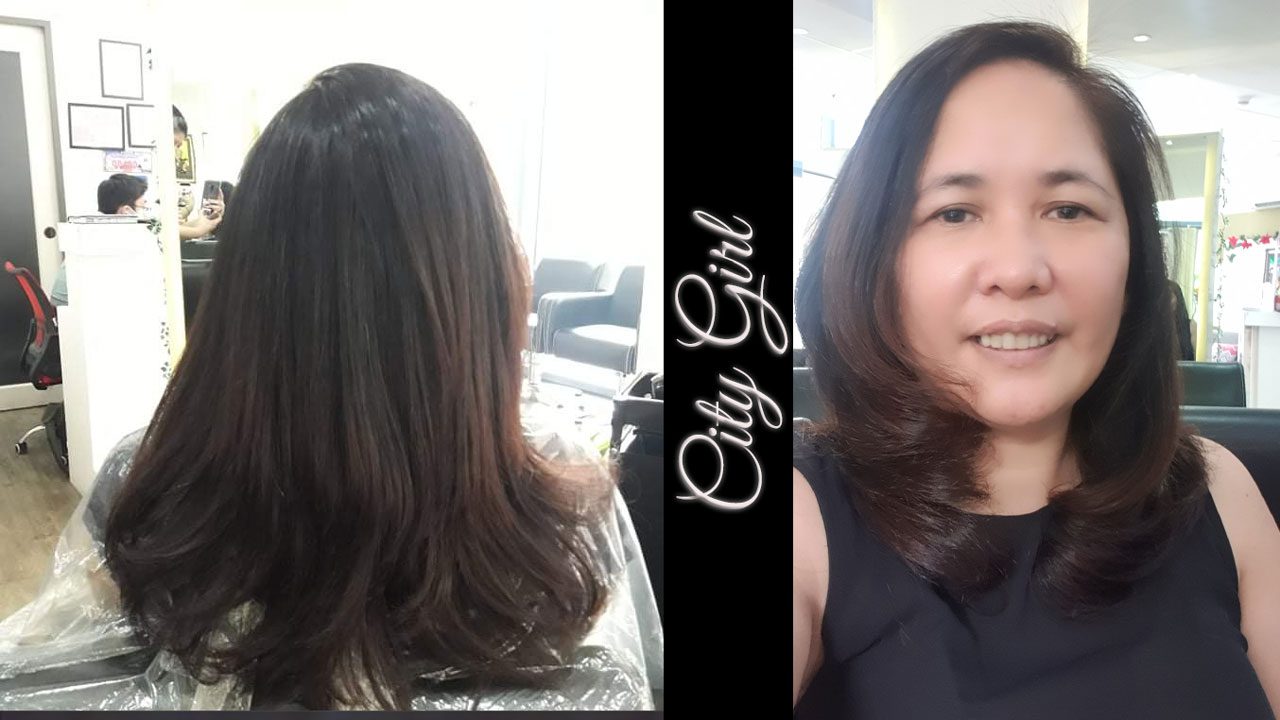 Transformation
I thought the transformation was amazing! Definitely a big improvement for me.  In addition, it is very easy to maintain with an ionic brush.  Blowdrying my hair has always been hit and miss for me, especially when my hair was extra long.  Purchasing an ionic brush was one of my best hair care purchases. 🙂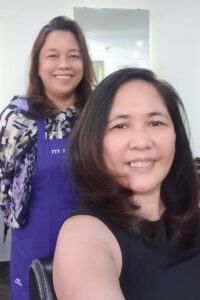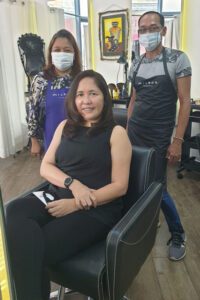 Thank you, Ms. O and Sir Fernan, for my new 'do.  Salon-O is owned by Ms. Olive Akatsu, a Filipino entrepreneur who is married to a Japanese national.
Their rates are competitive with other salons.  A haircut, their most basic service costs ₱400.  Just like other salons they also offer mani-pedi, color, hair straightening, rebond, curl, styling, microblading (for shaping your eyebrows), and makeup.
I entered Salon-O feeling okay and left feeling awesome (or should I say, O-some!)  You should get a chance to feel that way, too.
Here are their rates for your reference:
Follow Salon-O on Facebook and Instagram and their website.  Send them a message, they are highly responsive!  In addition, they have ongoing promos you may want to avail of.
Salon-O is located on Padre Faura just a block away from Roxas Boulevard.