This recipe first appeared on the Sweet K – All Things Yummy Community page.  Watch out for new recipes here and on the Community page.
Sinigang is a staple dish in a Filipino kitchen and there are many versions of this, too.  Here is a unique spin on this popular dish.
https://www.facebook.com/kakay.deleon/videos/10158751570942565/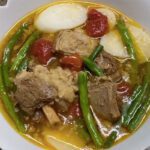 Print Recipe
Watermelon Beef Short Rib Sinigang
Ingredients
1

kg

beef short ribs

1/2

kg

Watermelon slices or more much better

Tamarind paste

(I used Suree which you can buy it in any supermarket, you can also try Tamarind powder but I like this better)

Fish sauce

(patis)

Sliced onions

Ripe tomatoes

(you can use any but I used cherry tomatoes)

Radish, sliced

Sitaw

Kangkong

Okra

(which I didn't have because of the lockdown)

Siling haba
Instructions
Boil beef and scoop out the impurities.

Then add tomatoes, watermelon, and onions.

Add Patis then bring to boil before you taste it. Always make it a habit to taste it before adding more salt or Patis. When you add let it boil first so it is properly distributed.

Slow-cook the ribs at low heat until the meat is tender.

Add tamarind paste then the veggies do not overcook.