Filipino-Australian Renato Clarete Tranquilino has a love of history, which is reflected in the stories he writes.
On becoming a writer

Ren likens wanting to be an author to the Mariner in the Rime of the Ancient Mariner. You have a story that you want to get out. You can't really be happy until you get the story out to people.
Growing up in the 70s, Ren says he was more a movie guy than a writer or storyteller. He tends to think in film whenever he tells stories. He transitioned from script writing to writing short stories when he moved to Manila, realizing making a science fiction movie would be too expensive.
"To become a good writer, you have to attend classes, many different courses, and mix with many people," he stated. "I've read a lot, so I know what I will write about. But the writing style takes time to develop."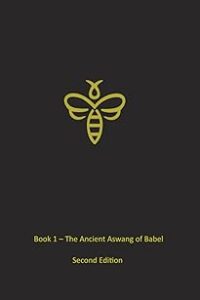 He finalized his book, The Merovingian, in 2019.  "It's a badly written book that would be perfect for a movie," he told his publisher, Cindy Wong of 8Letters, who helped him to market his book internationally.
Ren is also very grateful to the National Book Development Board (NBDB), specifically to  Director Anthony Balisi, because he was the one who got his career going in terms of Philippine sci-fi. It was he who invited Ren and Cindy to Frankfurt, and that's where he discovered foreign people were curious about Philippine sci-fi. "Next, we just need to create a Hollywood-level sci-fi film," he adds.
Currently, he's promoting his other books, Fate of a Distant Future and The Rise of the Filipino Merovingian.
On writing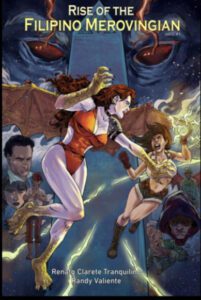 Ren decided he wanted to write science fiction, not for the advanced reader but for the regular reader, by combining easy-to-read, plain English with illustrations. "It would be like watching a movie. They can get the dialogue. They'd have enough references so they know it's based on reality. The pace had to be not boring. In essence, I'm directing a movie in the reader's head," he says.
"I always wondered who would be game enough to do something this insane," he stated. "Randy Valiente saw my work. Someone loosely introduced us. He got intrigued by the story and said he was ready to do the artwork. Reginald was a Godsend in terms of coloring. He made the comics pop."
"I'm just the guy that's trying to get middle-grade kids to like sci-fi and make it mainstream. And also adults who just want to pick freely and enjoy the ride," he smiles.
On feedback
Toughest criticism:
Being old, his writing style is too verbose; the dialogue is too childish sometimes. Someone said, "You could have written this sentence in two to three words. It's kinda long-winded."
Best compliments:
From Pulitzer Prize-winning journalist Manuel Mogato. "He told me he couldn't put the book down because he kept wanting to see what would happen in the next chapter." 
"Palanca award-winning editor and author Alma Anonas-Carpio, liked my book, The Merovingian became book of the week in the Philippine Graphics back in 2019."
Socials
Ren is active on:
Facebook: Author Renato tranquillino
Instagram: Alanon1
His books are available through Lazada, Amazon, and 8Letters.com