Warm soup is perfect on rainy days.  Wonton soup is relatively easy to make.  The most complicated step is making the wonton balls. Some of the ingredients don't have measurements because I kinda just eyeballed it. 😀
Eyeballing ingredient quantities is more common than you think.  Most home cooks don't really use measuring spoons or cups when putting dishes together.  At the end of the day, your tongue, nose, and eyes are the ultimate judge.  I actually posted this recipe on my Facebook community page months ago but only found the time to post this here now.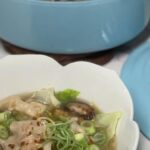 Print Recipe
Wonton soup 🍲
Ingredients
Wonton Filling
250

grams

ground pork

2

green onions, finely chopped

1

tablespoon

soy sauce

1

teaspoon

sesame oil

1

teaspoon

fresh ginger, grated

1 ½

teaspoons

cornstarch
Broth
8

cups

chicken broth

HEBI

1

head

garlic, minced

2

slices

ginger approx. 1/4"

2

tablespoons

soy sauce

2

teaspoon

sesame oil

2

green onions, sliced

Fresh Shitake Mushrooms

Sliced Cabbage
Instructions
Combine all the wonton filling ingredients.

Place 1 teaspoon of the filling at the center of wonton paper and bring the edges together to form pouches.

Sauté garlic, ginger, and onions. Add hebi, a pinch of salt, and pepper.

Add mushrooms and broth and let it boil. Simmer for 10 minutes.

Add the wontons to the soup and simmer for 4 to 6 minutes or until the pork filling is cooked through.

Taste the dish and add salt, as needed. Serve immediately.
Try this dish yourself and enjoy!