I love tikoy.  I say that every year and every year I mean it.  I am the happiest gal in the block whenever my friends would send me tikoy on Chinese New Year.  Over the years I have been receiving less and less … I'm lucky if I receive even one small one!  The emotional side of me thinks that I must have fewer friends than I used to, which is possible since I have kept mostly to myself for almost a decade now.  On the other hand, the logical side of me realizes that times are just hard and it has struck everyone, not just a few.
If you go to the grocery or any Chinese store and check out what tikoy they have available you will probably see every color of the rainbow as they now make this in different flavors.
Affordability is subjective.  If you have the cash to spare it is affordable, but if you live hand to mouth or paycheck to paycheck then it may be a luxury you will opt to forego.  Or … hope that one of your Chinese friends would bless you with a tikoy.
My favorite is the brown tikoy, which is made with brown sugar.
How to make your own tikoy
It really isn't difficult at all.  You need three ingredients: sugar, water, and glutinous flour.  By default, the tikoy will adapt the color of the sugar so if you use white sugar it comes out white.  To mix it up you could add food color (which is what I did to make my tikoy red) or add flavor.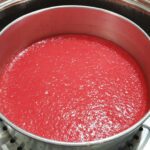 Print Recipe
Tikoy recipe
Chinese New Year cake
Equipment
pan

mixing bowl

whisk or spatula

steamer
Ingredients
2 1/4

cups

water

1

cup

brown sugar

3

c

glutinous rice flour
Instructions
Preparation
Combine the water and sugar in a pan. Turn on the heat and mix until the sugar is completely melted and you have a thin syrup. Set it aside and cool down to room temperature.

Sift the glutinous flour into a bowl. Add the syrup into the bowl a little at a time while mixing. Make sure there are no lumps.

Oil your baking pan/s well. Alternately, you can line your pan/s with wax paper as removing the cake from the pan when it is cooked is not always easy.

Pour in the batter a little over 3/4 of the way up.
Cooking
Prepare your steamer, make sure it is already steaming before putting the pans in.

Place the pans in the steamer and cook for an hour. If you have a cheesecloth you will want to cover the pans with it before putting the lid of the steamer so that no liquid will drop into the batter.
Resting
Remove the pan/s from the steamer and leave it out to rest and set. Don't get tempted to pry it off. It will shrink as it turns cooler. This will take around 2 hours.

Once you have removed the cake/s from the pan, put it in a container and chill in the refrigerator for at least 3 hours, longer is better. like overnight.

In the morning the tikoy will be ready to slice, fry, and serve. 🙂
The usual way of serving tikoy
The no-brainer way to serve tikoy is fried.
Cut the tikoy into thin slices.
Beat an egg in a bowl and dip each slice to coat before frying.
Lightly oil a frying pan and fry each piece on both sides.  You know the tikoy is ready when the center is soft and the egg coating is browned.
Serve and enjoy.