This recipe has two parts … the prawn and the salad.  I will set them as two separate recipes so that you could download just one or the other.
I bought my prawns from H&F Seafood Online.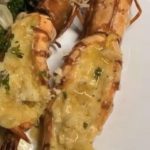 Print Recipe
Prawn Thermidor
Ingredients
1

bunch

parsley, chopped

100

grams

cream cheese

1

cup

cheese, grated

1

tbsp

kalamansi juice

(or lime)

1

tbsp.

flour

4

tbsps.

cream

4

tbsps.

butter

bread crumbs

1

head

garlic, minced

salt, to taste

pepper, to taste

1/2

cup

evaporated milk

olive oil

800

grams

prawn
Instructions
With the paring knife slice halfway to the middle the prawn's back from the neck to the tail.

Sprinkle lime juice on the meat set aside

Melt butter add garlic, salt, and pepper

Mix the flour, stir until it will turn pasty

Add milk and cream please continue stirring then add the cream cheese and grated cheese ( set aside a little bit of cheese for toppings)

Turn off the heat once all ingredients are well mixed.

Fill the sliced prawn a tablespoon of the cheese mixture.

Top it with cheese, bread crumbs, and chopped parsley

Drizzle olive oil on the head and add a dash of salt and pepper.

Baked it at 350 F for 15 mins
Notes
Always taste before adding more seasoning.
And now for the salad.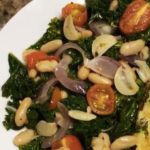 Print Recipe
Garlic Cherry Tomato Kale Salad
Ingredients
kale leaves

1

onion, chopped

1

clove

garlic, sliced thinly

cherry tomatoes, cut in half

salt, to taste

pepper, to taste

1

can

white beans, drained

McCormick minced garlic

extra virgin olive oil
Instructions
Heat pan with olive oil in a pan over medium fire, add garlic and onions. Do not burn the garlic.

Add the kale a few handfuls at a time, stirring after each addition so that it starts to wilt until all of the kale is added.

Stir in the salt and pepper then add tomatoes.

Stir in white beans. Taste before adding more salt.