March 10 is an important day because it is the day "the world stood still" – when everyone around the world acknowledged COVID-19 as a pandemic and nations went on different levels of quarantine/lockdown.
Covid-19 has caused fear to humanity and made the whole world into a standstill. Two-thirds of the country is mostly affected due to its abrupt spread. The government deemed it necessary to enact an Enhanced Community Quarantine to help contain the spread of the virus which left people wondering what to do at home for 30 days.
For myself, there hasn't been much change since I usually work from home, but there is a difference between choosing to stay home and being forced to stay home. But it still left me with a need to do something different, something more active. Aside from the usual household chores, I started noticing the little things all over the house that I could fix myself that I have been putting off for some time.
From the time I was a little girl, I have always been handy around the house and my dad's tools always fascinated me. I grew up having a close familiarity with screwdrivers, pliers, wrenches, hammers, and saws. Being the eldest child I became Ms. Fix-it and oftentimes I would be tasked to fix things like a leaky faucet, a squeaky door, etc.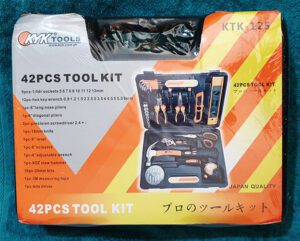 The KYK Tool Kit is the perfect toolkit for me. It is compact and easy to carry but when you open it you will find it packed with so many tools … 42 pieces in fact!
I also like how everything has a specified slot so that you know exactly where each tool is supposed to go.  The OC in me is super happy. 😀
What does the KYK Tool Kit contain?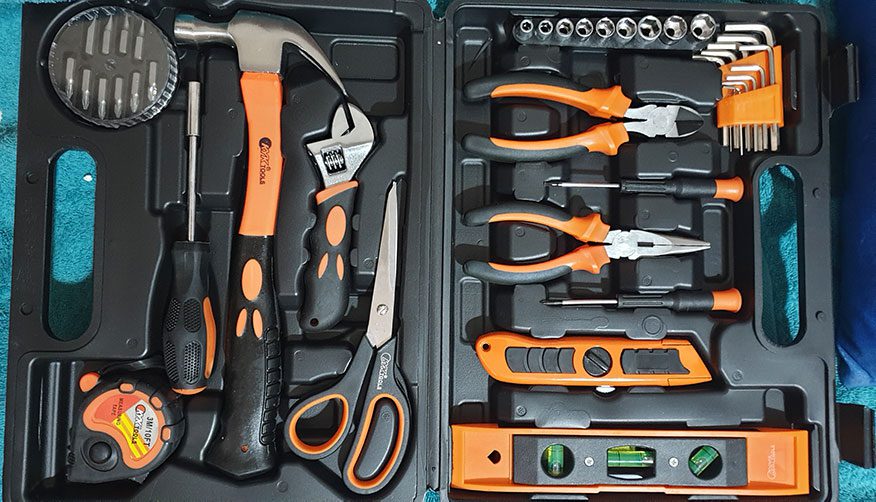 The kit contains the following:
1/4DR sockets (9 pieces) ranging from 5 to 13mm.
hex key wrenches (12 pieces) ranging from 0.9 to 6mm.
6-inch long nose pliers
6-inch diagonal pliers
precision screwdrivers (2 pieces) – Philips (+) and flathead (-)
18mm cutter
9-inch level
8-inch scissors
6-inch adjustable wrench
claw hammer
25mm bits (10 pieces)
bit driver
3-meter measuring tape
The only things missing here are a saw, a drill, a paint roller, paintbrushes, and a pan. 🙂  And, yes, I know how to use all of them. 🙂  KYK Tools brings the right tools to get the job done and is very affordable.  If you have a DIY need, KYK probably has the tool you need.
With over 4 decades of track record and an extensive line that meets our budget. KYK is available in every All Home branches nationwide.  Visit the KYK website at https://kyk.com.ph to know more details. For updates, follow their FB page: https://www.facebook.com/kyktools.
#KYKBuiltToLast #DIYwithKYK #KYKHomeImprovement