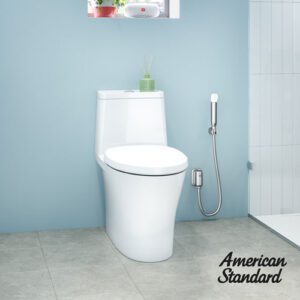 Bidet sprays are becoming a common sight in bathrooms, and they are typically used in more ways than one. Most trigger sprays in the market come with only one spray pressure, which does not serve the dual functionality required by consumers as a bidet and as a bathroom cleaning tool. The spray pressure on these trigger sprays ends up being either too harsh for intimate cleansing or too weak for effective bathroom cleaning.
To address these different needs in one purposeful product, American Standard™ has innovatively combined both functions into one sleek hygienic spray with two different spray pressures for both personal and bathroom hygiene. This creative conception has since earned the DuoSTiX™ Hygiene Spray the Red Dot Design Award 2022.
Whether you are using it as a bidet spray for a gentle cleanse on the skin, or as a robust bathroom jet spray for a thorough bathroom wash, the DuoSTiX™ Hygiene Spray with its revolutionary dual pressure features performs both jobs effectively, for everyone in the family.
Gentle on the Skin, Tough on Stains
Personal cleansing is all about gentle comfort, particularly for intimate areas. With Petal Pressure™, the specially designed nozzles are optimized to deliver a gentle, yet robust personal cleansing experience.
However, a stronger jet spray is required to eliminate stubborn bathroom dirt and stains. The purposeful design of the DuoSTiX™ Hygiene Spray delivers both functions. With the cap on, the DuoSTiX™ Hygiene Spray turns the water pressure into a gentle yet robust spray for a comfortable personal cleanse. And with a simple twist, the cap can be removed for a powerful Jet Spray to get at dirty bathroom corners.
Human-Centered Design for Ergonomic Use
Featuring a removable cap that can be fitted in either direction on the DuoSTiX™ Hygiene Spray, users can easily and ergonomically operate the spray button with either the thumb or index finger. This thoughtful FlexiFit™ design takes into consideration individual user preferences during personal cleansing and enhances ergonomic comfort for both feminine and posterior cleansing. Furthermore, the integrated design of the DuoSTiX™ Hygiene Spray ensures minimal gaps to prevent dirt buildup and its EasyClean™ feature means the cap can be easily removed for targeted cleaning – all in the name of better hygiene.
FlexiMatch Finishes for Any Bathroom Style
The DuoSTiX™ Hygiene Spray comes in a chrome body and is available in either a glossy white or a matte black cap. This chrome version offers a premium look that will fit harmoniously into any bathroom style, and the glossy body surface effectively repels dirt and stains.
If you are looking for enhanced hygiene protection, the DuoSTiX™ Hygiene Spray also comes in a full glossy white version with HygienePlus™ that offers total anti-microbial protection and a touch of contemporary charm to your bathroom.
Whatever your choice is, the DuoSTiX™ Hygiene Spray makes for a gentle cleanse and a thorough clean in one handy hygienic spray.
About American Standard
As one of the most iconic brands in sanitary ware, American Standard has earned the trust of its customers by constantly delivering style, quality, and reliability to their bathrooms. Today, backed by more than 140 years of pioneering legacy, American Standard continues to raise the bar in delivering dependable bathroom solutions that combine thoughtful designs and innovative technologies to create inviting bathroom sanctuaries offering ultimate comfort and performance to its customers.
About Lixil
LIXIL makes pioneering water and housing products that solve everyday, real-life challenges, making better homes a reality for everyone, everywhere. Drawing on our Japanese heritage, we create world-leading technology and innovate to make high-quality products that transform homes. But the LIXIL difference is how we do this; through meaningful design, an entrepreneurial spirit, a dedication to improving accessibility for all, and responsible business growth. Our approach comes to life through industry-leading brands, including LIXIL, GROHE, American Standard, INAX, and TOSTEM. Over 70,000 colleagues operating in 150 countries are proud to make products that touch the lives of more than a billion people every day.
LIXIL Group Corporation (TSE Code: 5938) is the listed holding company for LIXIL's portfolio of businesses.