Kojie-san may be the country's number one kojic acid soap, but that doesn't mean that it's done changing the beauty landscape. The brand is always evolving and seeking ways to help women Command Beauty by offering high-quality products that give you the power to decide how you want to look.
This is why Kojie-san has created the latest kojic acid innovation, the Zero Pigment Light, that lets you go "all the way light" and achieve an even complexion. This new skin lightening innovation is a powerful mode of action that takes the amazing lightening benefits of kojic acid up a notch by zeroing in on your dark spots, age spots, scars, melasma, and hyperpigmentation for a lighter even skin tone.
You can now experience this new and improved kojic acid with Kojie-san's dermatologically tested and paraben-free line of soaps Kojie-san Skin Lightening Classic Soap and Kojie-san Skin Lightening HydroMoist Soap, and the new body wash variant Kojie-san Skin Lightening Body Wash with HydroMoist.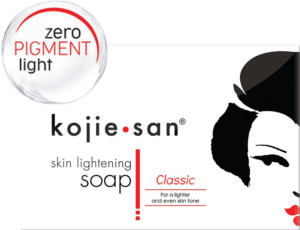 With Zero Pigment Light, the brand has made its famed Kojie-san Skin Lightening Classic Soap even better. Clinically proven to lighten skin in as fast as 7 days, this Classic Soap continues to be one of the best lightening soaps in the market, as proven by its loyal following.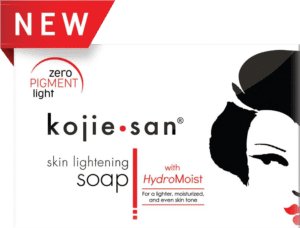 If you have dry skin, try Kojie-san's newest soap variant that combines the skin lightening power of Zero Pigment Light and moisturizing benefits of its latest HydroMoist formula. Kojie-san Skin Lightening HydroMoist Soap helps keep your skin moisturized and well-hydrated for up to 24 hours so it stays soft and smooth all day.

Kojie-san's new Zero Pigment Light is also infused in Kojie-san Skin Lightening Body Wash with HydroMoist to help eliminate dark spots and uneven skin tone, and keep skin soft, smooth, and moisturized. With HydroMoist, this body wash deeply nourishes and hydrates skin for up to 24 hours. Dermatologically tested and paraben-free, it gently cleanses and helps protect the skin's external layers from losing moisture, and leaves you feeling cool and refreshed after.
Kojie-san's Zero Pigment Light innovation goes with its Command Beauty campaign that helps you shun restrictive beauty standards and embrace your own meaning of beauty. Kojie-san's highly effective products with Zero Pigment Light give you more confidence to fearlessly pursue your own beauty goals and take charge of how you want to look and to live your life.
Get exciting updates and information at @Kojie-sanPH on Facebook and Instagram and www.kojiesan.com. Kojie-san is available at all leading supermarkets and drugstores nationwide, as well as Kojie-san's official LazMall on Lazada and Beauty MNL.