I recently received a packet of Glorious Blend Iced Tea. My family knows I have a sweet tooth but have health concerns that require me to cut down on my sugar intake. It has been very tough to give up my sweets.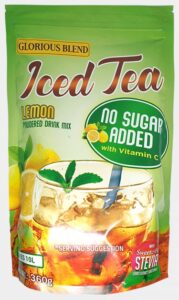 I was honestly a little hesitant because it said stevia and my experiences of sugar alternatives have been that most of them have a weird metallic taste. I was very pleasantly surprised at the taste and light flavor of Glorious Blend Lemon Flavor Iced Tea.
The instructions said only 2 teaspoons to 1 liter of water. This surprised me since most commercial iced tea packets put way more than that to make 1 liter of iced tea. So, the little skeptic in me continued to raise its head. Wonderfully, the mix is just right. It's sweet but not cloying. The flavor is light and perfect on a hot day. 
I also like that Glorious Industrial & Development Corporation (GIDC), the company that makes Glorious Blend Iced tea, is Filipino-owned. I noticed that they include Malunggay in some of the coffee mixes. That's a first for me (malunggay in my coffee) but as they say, the proof is in the tasting.
This is definitely a product I will buy for myself moving forward. I'm looking forward to trying their other products such as the Maxitrim Coffee Mix and 7-in-1 Choco Mix. Ooh! I just saw that they have a new cucumber lemonade drink mix. Guess what's going into my shopping cart?