Yup, a home test kit said I'm positive. Now, before you say I shouldn't have spent on that, let me just reiterate that I am still waiting for the Pasig City Public Information Office or the CESU to contact me for the RT-PCR test which is the more definitive test. All this home test kit is telling me is that I need to stay isolated for at least 10 days even if my symptoms go away before that.
I'm calling this my fling with Mr. O — yup, it felt hot and heavy for a while (and not in a good way), but it has to end. And it's totally because it's him, not me. hehehe.
We've stocked up on Difflam lozenges and Camilosan throat spray. At this point, I don't need paracetamol anymore. It's the nuclear war in my throat that has to end. I'm hoping these reinforcements will stop the bombings and give me peace. This has to work now. Aside from spending on it, strawberry-flavored Difflam (the only one available) tastes awful.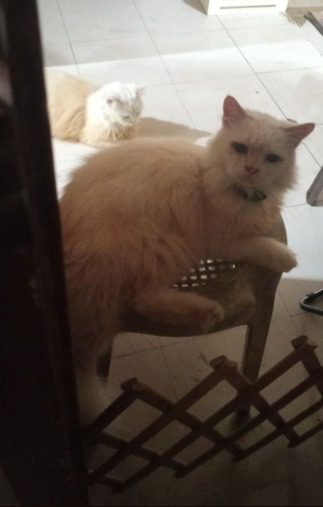 So, on this fourth day of my fling with Mr. O, I am often greeted by the vision of our sentient clouds at my door. That's Pogi on the stool, and Bacon on the floor. Don't let Bacon's seemingly calm demeanor fool you. Bacon had successfully infiltrated my cave earlier, hence the gate was put in place along with the stool (formerly known as a delivery portal, now a.k.a. Pogi's new throne to be near mommy). When the feline populace is active, the delivery of supplies to my cave of recuperation becomes a grand production with Kimi playing carry-as-many-cats-as-I-can while Ester clears the stool for my supplies. Kimi cannot stop playing until I have retrieved said supplies.
And Kimi has started showing symptoms as of today. This means that only the pets have been spared so far. The poor babies will need to cope without human harassment for quite a while.