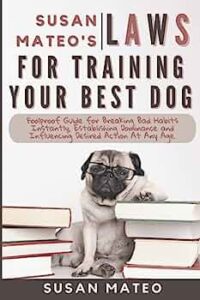 Susan Matteo's Laws for Training Your Best Dog is best bought in paper form. It's the kind of book I'd love to hold and highlight key points. It's a very useful reference manual. If there were more pictures, this could be a coffee book.
One of the first things I noticed (and loved) is that she says dog parent instead of dog owner. It's a small nuance for some but I agree with thinking that a dog is a part of the family. We consider our dogs fur babies.
The book is laid out pretty simply and is very easy to understand.
She starts right off the bat saying there are 4 laws that we should know and that these are what we pay dog trainers for.
If you're looking to get your dog parenting life off to a good start or just want to have a better-trained dog, here's a practical and useful guide. You can find this on Amazon in Kindle, Audible, paperback, and hardcover format. Prices vary depending on format but if you have Kindle Unlimited, it's free!