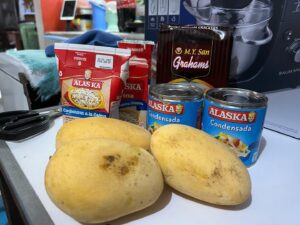 The Mango Float is a popular dessert during parties. I've heard it referred to as a Mango Graham cake because of its ingredients, I suppose. This dessert is easy to make and disappears quickly! I always make sure to make space in my tummy when I know it is on the menu.
Will any mango do?
If you live in the Philippines you know that there are several types of mangoes but not all of them will go well as an ice cream cake, which is technically what this dish is. The type of mango we use for the mango float is the one we call kalabaw. I seriously have no idea why it is named after an animal but among all mango varieties, this is the one that is very sour while it is green and super sweet when it is yellow and ripe.
The secret to a really good mango float is … the mangoes have to be very sweet. And the best way to find out is to taste it. 😁 Just take a slice and eat that. From my experience, though, you should be able to tell how sweet it is even as you are peeling it. In my case, if I start to salivate I already know it will be too sour to put in the dish but perfect to munch on later.
What cream to use?
All-purpose cream is what I used for this recipe but if you have whipping cream (or whipped cream) then that will do as well. There are several brands in the market to choose from such as Anchor, Emborg, President, Arla, etc. I prefer regular all-purpose cream because 1) it's cheaper and 2) it is available everywhere. In addition, I can easily whip the cream myself with a stand mixer.
Can I use sugar instead of condensed milk?
Truly, what you combine is up to you but from my experience, the condensed milk not only serves as a sweetener but is also a binder since it is quite thick.
Graham crackers
For this recipe I would recommend having the Graham crackers two ways … in cookie form and crushed. You can find both versions easily in the grocery store. For the layers, we will use the cookies but for the toppings, we will use the crushed Grahams. This is honestly more for aesthetics than anything else but I also like the texture of the crushed Grahams. 🙂
Here is my take on this dish.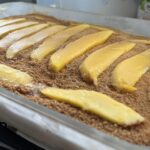 Print Recipe
Mango float
A simple no-bake dessert that is always a hit at gatherings. The most challenging task for most is layering.
Equipment
stand mixer (optional)

mixing bowl

spatula

1 9x13 pan
Ingredients
500

ml

cream

250

ml

condensed milk

Graham crackers

crushed Graham crackers

2 to 3

pieces

ripe mangoes

sliced thinly
Instructions
Place the cream in a bowl, and mix it until it is smooth and not lumpy. Add the condensed milk and fold using a spatula.

Put some of the cream mixture in the tray and spread evenly.

Place a layer of Graham crackers (without overlapping) to cover.

Put some cream on the Graham and spread evenly.

Last some thinly sliced mangoes as close to each other as possible.

Place a layer of cream and spread.

Repeat step 4 until you run out of mango slices.

Top with crushed Grahams.

If you have extra slices but not enough to cover another layer you can put them on top of the Graham bed.

Place in the freezer to set.
Notes
This does not take long to set so you can enjoy this in an hour or two.
* In the first step, before mixing the cream with the condensed milk, I like to whip it for about 7 minutes to put some air in it so that once this dish is frozen it isn't rock hard.
This really doesn't take long to make but I hesitated to indicate a time because it really depends on you. If you are the type who likes to work quickly and efficiently then it will be done in no time at all. But if you are the type to loo-lee-loo and take your time, it will take longer, but probably not by much more. What matters is that when you make this dish, don't stress out. It really is super easy to make.