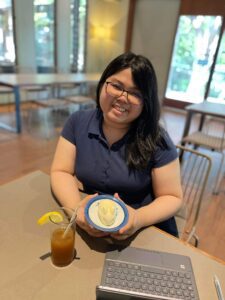 Taiwan-born RJ Liu migrated to the Philippines more than ten years ago. She loves adventure and fantasy stories and looks for stories that can capture her imagination. This inspired her pen name, RJ Cheshire. 
She didn't really know what she wanted. Growing up in a Chinese family, art was not encouraged as an occupation. She got into writing in high school. Feeling she didn't belong anywhere, books were her escape. 
She joined a writing competition once but bailed in the middle. That's when she started liking the writing process. She wrote scenes but never put together the whole story until she saw the call for submission of PaperKat Books.
PaperKat Books gave her the opportunity to write a full story. It also gave her the courage to write.
On Writing
I lean towards dark humor. I want to be the type of writer who is not afraid to express myself. I love the gore, the bloodshed, the mystery, and the adventure. It just creates a certain vibe – a certain likeness in me. I really want to bring out in others.
When I read great works like Harry Potter or Percy Jackson, it always makes my heart pound. I always want to know what happened next. I wanted to try to write something mysterious and make people want more.
Writing habits
RJ likes to outline and work within a structure, but sometimes the inspiration just hits. What really helps is knowing there is a deadline. The healthy pressure pushes productivity.
Every day, I have to force myself to sit and write and ignore the grammar – honestly, my grammar is terrible. Sometimes, it's the grammar that stops me. I just word vomit, then come back and rewrite and rewrite.
Dystopia Manila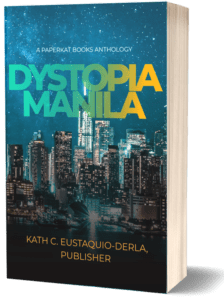 Climate change is not just something that science alone can solve.  It will take the work of everybody. It takes people's dedication and imagination, too. The community must work together to resolve it.
I wanted to embrace the idea of change. The world is always changing. Everything can feel scary. Change feels scary. We need to want to move forward no matter what, like the protagonist.
The hardest thing was to believe in what I was doing.  I could only trust my gut. I had so many ideas in my head, and you never know which one will work in the short story until you try it. I watched so many YouTube videos about writing because I didn't want to leave it with a question mark. I hope people enjoy my work rather than getting overwhelmed by my story.
Advice to aspiring others
When you're writing, feel your emotions; know that you may feel sad or scared. That is normal because you're putting out a piece of yourself. If you're not ready to be a public persona, you're not ready to be an author.  Whether it's good or bad feedback, know that you did something many people want but have never done.
Other projects
RJ has a short story in the Love In Style Anthology and another one in the works. She also has some short stories on Wattpad.
Social Media
Readers can follow her through
Facebook: R.J. Cheshire
Instagram: @r.j.cheshire
Dystopia Manila and Love In Style are available through Lazada