Check out Prime Samgyupsal if you're looking for a reasonably priced Korean bbq grill.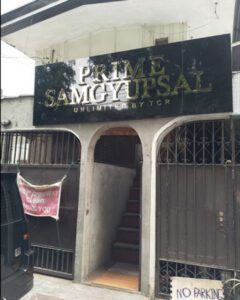 Located on Sct. Castor, just off Tomas Morato, Prime Samgyupsal looks like a regular house on a quiet street. I'd almost call it a hole in the wall because you might not find it unless someone told you about it or you stumbled on it by accident. You have to climb a short, steep staircase before you enter a space that feels just right for hanging out with friends.
I would say the flavor is Korean-inspired rather than true Korean taste but unless you are picky, that won't stop you from enjoying what Prime Samgyupsal offers. You can choose from the unli options or go a la carte but know that 1 table must choose the same unli option since there is a no sharing rule.
What I loved about the place: I would be comfortable going there and eating alone. Sometimes, we need to de-stress. There are tables just right for 1 or 2 people. So if you have a craving but no one to drag along or if you just want to be alone, Prime Samgyupsal is a good choice. It's unlimited meat. 'nuff said, right?!
They offer unlimited sausages. Something a little different on the table. It's good pica food while chatting over soju or beer.
There is no feeling of being rushed to leave. We had a leisurely, heavy, extended lunch. The staff was accommodating and friendly. We just naturally stood up because our tummies were super stuffed already and we had other things to attend to.