Welcome back to my kitchen. 🙂  For dinner today I took a look at my stash of Purefoods Ready to Eat Viands and after a lot of thought, I decided to do something different with the Purefoods Beef Pares.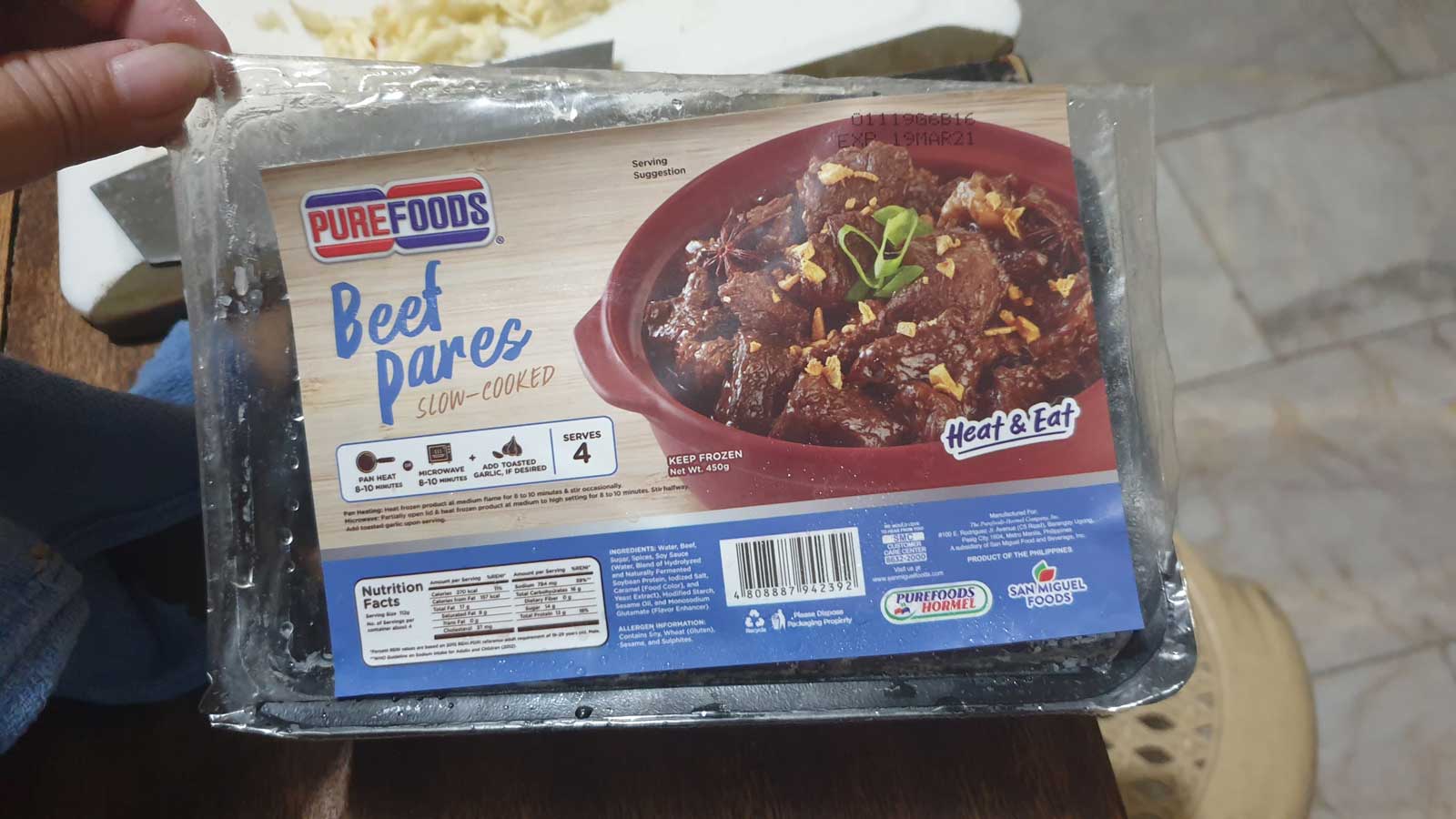 Beef pares brings back a lot of memories for me.  It is one of those dishes that late-night denizens are wont to enjoy – it is served quickly and every bite is flavorful and filling.  For many years my husband and I would drop by the pares restaurant not too far from our house after a gig just to grab a bite before heading home.  But while it is quick and easy for us, the patrons, preparing it takes a lot of time.  This is one reason I am quite thankful that Purefoods decided to produce this line – for doing the slow cooking for me.
Quick and Easy
On its own, this ready to eat viand is simple itself to prepare.  Whether you heat it up on the stovetop or the microwave, just put it in a container and heat up for 8 minutes and you're done!  All that is left is to serve it then scoop a serving over hot rice.  This package is good enough for four people.
Extending the dish to feed more people
There are seven people in my household and if I served this dish as is then Not everyone will really get to eat (especially since half the family eats twice as much!) so, it was time to once again get creative in the kitchen.  Aside from the beef pares I had garlic, onions, carrots, mushrooms, and dangmyeon (Korean glass noodles).  I decided to make japchae.  With the addition of the noodles, this dish can now feed twice as many people.
Some notes:
When slicing the Purefoods Ready to Eat Beef Pares I would recommend doing this frozen so that the meat is easier to slice into strips and none of the sauce is wasted.
I used onion, carrot, and mushrooms, but really you could add any vegetable you want.  Some commonly used ingredients for japchae are leeks and broccoli, and some like using bell peppers.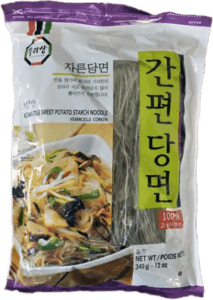 Technically, I could have used any kind of noodles like canton, bihon, or sotanghon, but I like dangmyeon the best.  Sotanghon and dangmyeon are both vermicelli noodles but sotanghon is made from mung bean flour while dangmyeon is made from sweet potato flour.  Dangmyeon turns into glass noodles that are thick and kinda sticky, which is what I like about japchae.
The package I bought was 500 grams and for this recipe, I only used 300 grams but I cooked all of it anyway.  From personal experience I've noticed that usually when there is just a little bit of the dish left there is usually a lot more meat than noodles so I just add the remaining 200 grams to the leftovers, heat them together, and I just add japchae sauce.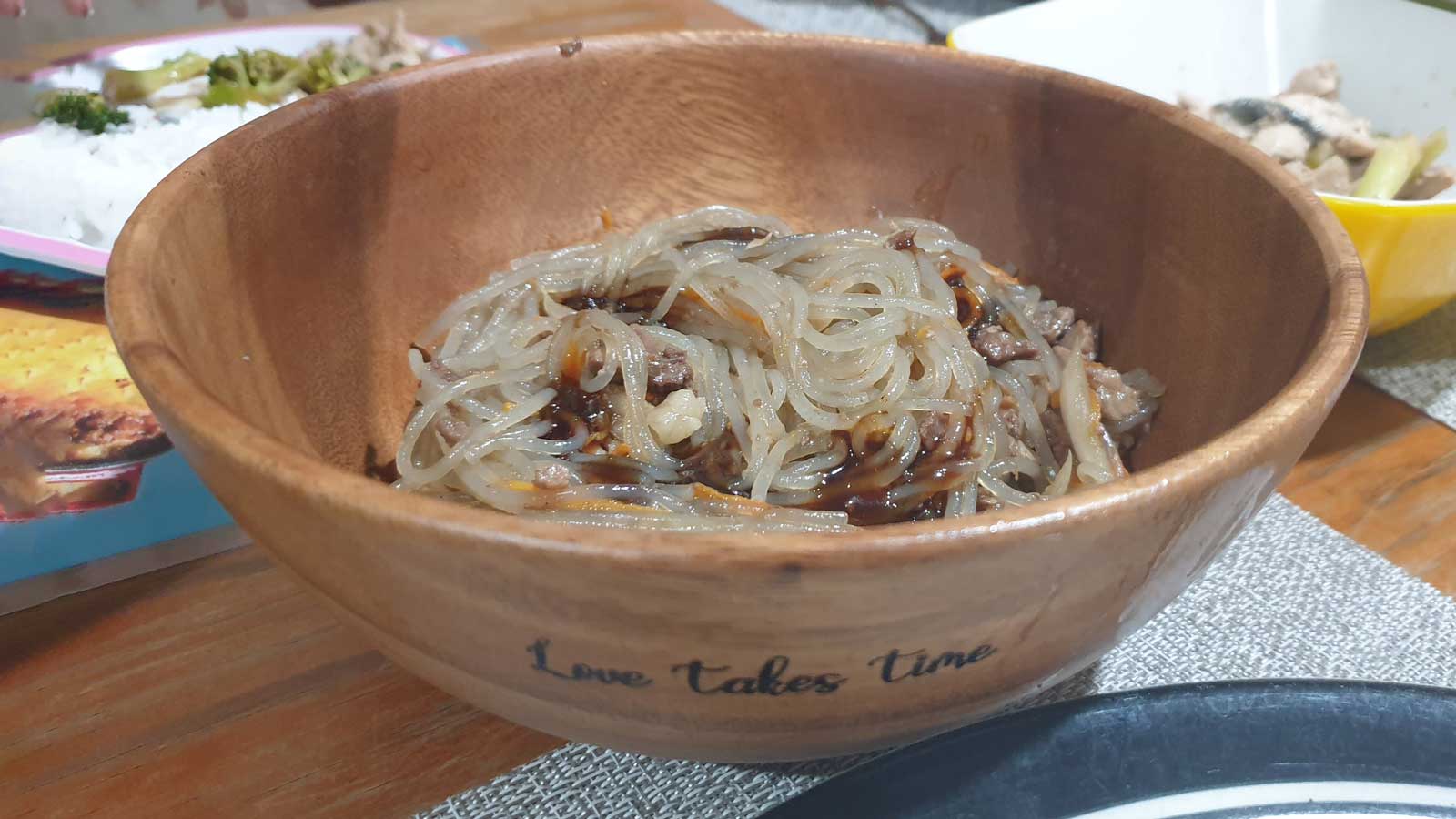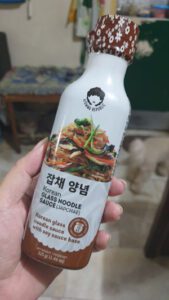 This is the japchae sauce I used.  I think I bought this and the noodles from Landers but they might also be available at other grocery stores, I just never really looked.  You could also add this sauce to the beef pares japchae to make it more flavorful, but I would recommend trying it without first.
As a finishing touch, you can sprinkle toasted sesame seeds on your noodles.
---
Purefoods beef pares is a savory-sweet dish which made it perfect for making japchae.  It takes the guesswork out of having to make a japchae sauce and sourcing exotic ingredients … or buying a bottle of japchae sauce. 😀
Even though I am calling this a "level up" dish it is actually effortless to make!  In less than 20 minutes I was able to feed my family!  And, as my sister likes to say, it is a complete dish in itself. 🙂
Yum, yum!  Prepare this yourself and enjoy!  We did. 🙂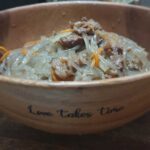 Print Recipe
Beef Pares Japchae
This dish is a fusion of Filipino and Korean
Equipment
chopping board

knife

peeler

large wok or pot
Ingredients
1

pack Purefoods Ready to Eat Beef Pares frozen

3

cloves

garlic

chopped

1

large onion

cut into strips

1

carrot

julienned

1

can mushrooms

pieces & stems

300

grams

vermicelli noodles, I used Korean glass noodles aka dangmyeon

oil

salt and pepper to taste
Instructions
Preparation
Boil water in a pot. Once it is boiling place the noodles in and boil it for 5 minutes.

Rinse the noodles in cold water and set them aside.

While still frozen cut up the beef pares into strip-size and set aside. I would recommend putting it back in its original container so that none of the sauce is wasted.

Peel and chop the garlic, onion, and carrot. If you bought whole mushrooms just slice them thinly.
Cooking
On medium heat saute the garlic for about 30 seconds, add the onions. After a minute add the carrots and mushrooms and simmer.

Add the beef pares, mix, and simmer for another 8 minutes.

Add the noodles and mix until all the noodles are covered in the sauce of the pares. Add salt and pepper to taste.

Turn off the heat and serve. Your beef pares japchae is ready to eat!
Purefoods Ready to Eat Viands is available at all leading groceries and supermarkets.  The price varies depending on the variant that you get.