I love eating spicy food.  So do my daughter and sister.  When I showed them the Purefoods Ready to Eat Bicol Express they were excited to try it.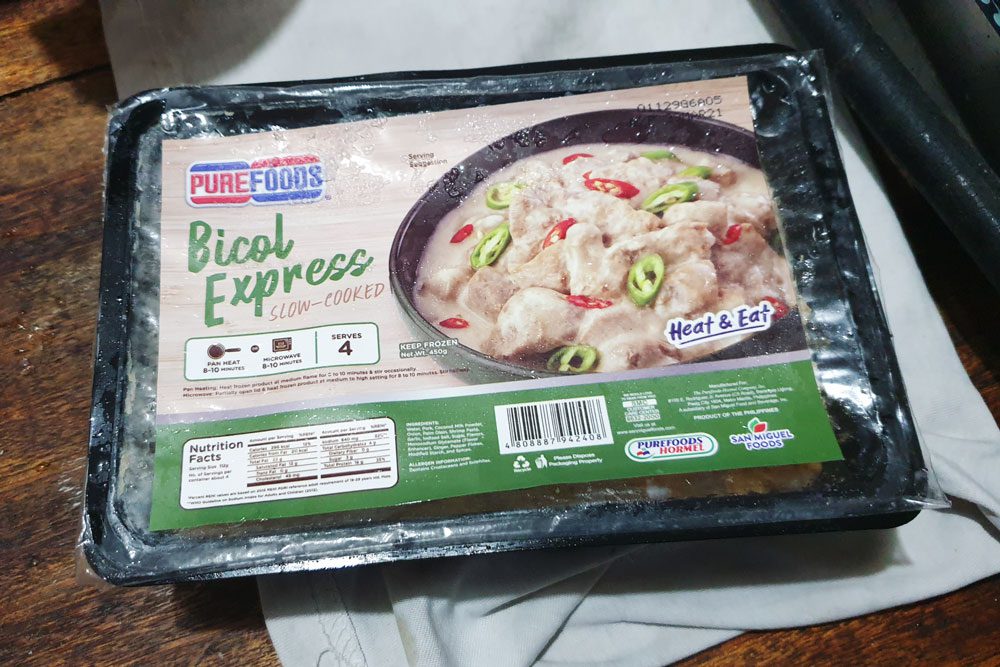 But that is just half the household.  The other half has a low tolerance for spice but were still willing to try it.  This gave me a challenge – how do I prepare this so that it is not so spicy but it will still be delicious?
Home Foodie PH suggestion
Home Foodie PH suggested Bicol Express Pizza so I looked over the recipe
Ingredients:
2 pieces store-bought pizza crust
1 (450g pack) Purefoods Ready to Eat Bicol Express thawed out in the chiller
2 cups mozzarella
1 (165 gms) Magnolia Quickmelt cheese
1 (100 g) red bell pepper, cut into strips
1 (100 g) green bell pepper, cut into strips
For chili honey
1 tbsp. chili flakes
1/4 cup honey
Procedure:
Preheat oven to 450o
Assemble pizza by spreading Bicol express sauce on each pizza crust surface.
Add mozzarella and Quickmelt cheese to each crust. Top with Bicol express meat and bell peppers.
Bake for 10 minutes or until crust is golden brown and cheese has melted.
Makes 16 slices
(Yield: 2 pc 12-inch pizza/1-2 slices per serving)
Sounds simple enough, right?  And pizza is a great idea because that much cheese would partially neutralize the spiciness so that the rest of the family can enjoy the pizza, too. Unfortunately, not all the ingredients are readily available in my kitchen.  One small piece of bell pepper costs ₱48.  Mozzarella cheese is not only expensive but is not readily available in nearby groceries.
What I ended up doing
Substitution is key! 🙂
I did away with the mozzarella and used cheddar cheese all the way instead.
Goodbye, bell peppers, I can't afford you.
chili honey – I didn't need to make it or use it as the pizza was flavorful in itself.
pizza crust – seeing as how I used to work in Shakey's many years ago, I actually do know how to make a pizza from scratch so I decided to make my own pizza crust.
Notes:
This recipe makes a pizza that is FILLED with ingredients.  You can make another crust and split the filling to make 2 pizzas.
Most cookbooks will tell you to preheat the oven before doing anything else.  Personally, I find that a waste of gas so I would recommend not turning on the oven until you actually need it.  After all, it doesn't take too long to heat up.
Some prefer to thaw first and then cut up but personally, I've found that it is easier to cut up meat, especially those with sauces like these ready-to-eat meals when they are frozen.  It helps, of course, that I use a cleaver.  Since there are so many of us here at home this is my way of making cut-up meat stretch out so that everyone gets to eat.
Only 3 things are limiting you – budget, available ingredients, and imagination
I didn't have any mozzarella so I used cheddar all the way
If you are using a gas oven this is one way of ensuring that the pizza is cooked evenly.  We used to do this, too, at Shakey's.
The amount of cheese to put is really up to you.  I can't recall the exact weight anymore after all these years but a handful of grated cheese is usually enough to cover a large pizza so for this recipe, you will need 2 handfuls.  I think that it would approximately be 165 grams or a small block of cheese.
You can also use cheese squares if you like, but you will likely end up using more cheese if you do.  But, as I said, the amount of cheese is completely up to you. 🙂
How did it turn out?
The crust is soft and chewy and delicious and the Bicol express made me very happy.  The spice level was just right and the meat was soft and juicy and oh so delicious!  My sister even tells me that I could reduce the Bicol express toppings when I add veggies so I could make two rectangular pizzas.  Next time I do this I will cut the pieces smaller so that it will be easier to split into more pizzas. 🙂
Here is my recipe for Bicol Express Pizza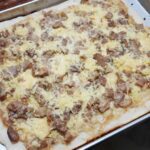 Print Recipe
Bicol Express Pizza
This is a very simple, easy-to-follow recipe for making a pizza at home from scratch. The crust will turn out soft and pillowy and a pleasure to chew.
Equipment
measuring cups

measuring spoons

mixing bowl

rolling mat

baking tray

chopping board

knife

pot or pan of your choice

cheese grater

stove

oven
Ingredients
1

cup

water

1

tbsp

sugar

1

tbsp

instant yeast

1

tbsp

melted butter

1

tsp

salt

2

cups

all-purpose flour plus a little extra for dusting later

1

pack Purefoods Ready to Eat Viands Bicol Express frozen

1

tbsp

oil for oiling the pan

165

grams

cheese or enough to cover the pizza twice
Instructions
Mix the sugar and the warm water in a mixing bowl until the sugar is melted. Make sure that the water is not too hot then add the yeast. If your water is too hot the yeast will die. Tip: The water should be warm to the touch but won't burn you.

Allow it to sit for 5 minutes to allow the yeast to ferment and form bubbles. If this does not happen that means that your water is too hot and your yeast died so you will have to start again.

Add the melted butter (make sure it isn't hot!) and mix.

Sift the flour and salt into the bowl. Mix again. Keep mixing, this will form into a sticky/tacky dough ball.

Take the dough out of the ball and put it on the rolling mat and knead for a few minutes. Don't worry about your muscles getting sore because this recipe does not need a lot of kneading. You just need to look at the dough and knead until you see that all the ingredients are well incorporated. From my personal experience, it just takes 10 to 15 times to fold and knead and you are good. It is just like playing with Playdoh.

If you are making a round pizza crust then roll it into a circle with a rolling pin. Take note, though, this recipe makes either two standard size crusts or 1 big crust.

Oil your baking pan/tray on all sides and transfer the dough onto the pan/tray and let it rest. This will still expand. In the meantime, turn on the heat in the oven and wait until it hits around 400F. (1)

While waiting, open your frozen package of Purefoods Ready to Eat Viands Bicol Express and cut it up into several strips (or chunks). and put the strips in the pot (or pan) with 1 to 2 tbsps of water for thawing and simmering. I like to put it on low to medium heat and simmer it for 8 minutes. Turn off the stove after. (2)

If you want to make a rectangular or square pizza you can use your roller to stretch it down and out more. Don't worry that it is too thin, like I said, it is still expanding. if you decide to make your crust into a rectangle then there is no need to make 2 small pieces as you already have one big one.

Once the oven has hit the desired temperature, place the baking tray on the lowest rack of your oven and bake for 5 minutes.

Take it out of the tray and use a fork to pop and bubbles that formed. Scoop the sauce of the Bicol express onto the crust and spread it. Sprinkle a thin layer of cheese on top of the sauce.

Put the Bicol express meat over the cheese and any other topping you want to put on the pizza such as mushrooms, bell pepper, onions, etc.(3)

Top everything with cheese(4) again then put the pizza back in the oven and bake for 10 minutes.

Turn the tray and bake for another 10 minutes.(5)

Your pizza is done and ready to eat.
Notes
See the notes before this recipe
Pizza Crust nutrition facts
One slice of the pizza crust is 68 calories.
Purefoods Ready to Eat Bicol Express nutrition facts


As per the packaging, the calories in one serving is 296 calories, but that is assuming 4 servings.  Since this is a 16 slice pizza, each slice has 74 calories.
165 grams of cheese divided by 16 = 11.25 calories.
This means that each slice of Bicol Express Pizza = 153.25 calories
Try this recipe or make your own.  Or, just eat it the Bicol express as is!  It is your choice.  When I decide to eat this with rice you can be sure it will be over a bowlful of steaming hot rice and probably an egg on top. Breakfast rice toppings, yes!  Now I'm hungry again, lol!
Purefoods Ready-to-Eat is available at all leading groceries and supermarkets nationwide.  Follow Purefoods on Facebook and Instagram.