Beef gyudon is one of my favorite Japanese dishes and for a long time, I have wanted to make this but never really got around to it until now. 🙂  I searched online for a beef gyudon recipe that I thought I would like to try and found this recipe by justonecookbook.com.
All recipes I have seen have all indicated the need for mirin and sake.  Let's face it, in ordinary times these ingredients are already difficult to find … more so now, with the quarantine going on.  Therefore, I have found the need to substitute with what I already have at home.
Instead of mirin, I used 1 part sugar with 2 parts rice wine vinegar.
Instead of sake, I used white cooking wine.
In addition, it is now possible to buy beef that is sliced thin enough.  Just ask the butcher for "sukiyaki" or bacon cut.
Below is the modified recipe.  I doubled the quantity of the recipe I used as a reference as there are more people to feed at my house. 😀
My family enjoyed it, I hope you do, too. 🙂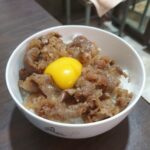 Print Recipe
Beef Gyudon
Ingredients
2

tbsps.

cooking oil

2

onions

sliced into strips

700

grams

beef

sukiyaki/bacon cut

4

tsps.

sugar
Sauce
2

tbsps.

light soy sauce

4

tbsps.

white cooking wine

8

tsps.

rice wine vinegar

4

tsps.

sugar
Instructions
Mix the sauce ingredients in a bowl until the sugar is melted. Set aside.

Use a medium-sized pan or wok and heat it up to medium-high heat.

Place the oil on the pan and saute the onion until it is soft and translucent.

Add the beef and sugar. Mix and cook until the beef is no longer pink. Be careful not to overcook!

Add the sauce, mix, and simmer for 2 to 3 minutes.
Putting the rice bowl together
This recipe makes up 6 servings. Bring out 6 bowls and put (at least) 1 cup of rice each.

Top with the beef gyudon you just cooked.
Notes
Your beef gyudon rice bowl is now ready to serve. 
Some people like it with an egg, if that is the case there are two things you can do:
right before preparing the rice bowls, pour the 6 beaten eggs into the beef and mix it.
serve a raw egg with the rice bowl and have each person crack the egg over their own bowl and mix it themselves.
For the second option, this only works well if the rice and beef are freshly cooked/still hot.
Enjoy!  We did. 🙂