Tokwa't baboy is one of my favorite dishes.  I could eat it for breakfast, lunch, and dinner. 😀  I have always wanted to make this myself but was never motivated enough to do so until now.
I searched and found so many recipes online but I wanted something simple.  For one thing, you can't really find pig's ears at the supermarket.  In the end, I decided to follow the recipe of Chef Mira on Yummy.ph.
As is my won't though, I confess, I did not follow it religiously, hehehe.  Here is my version of tokwa't baboy.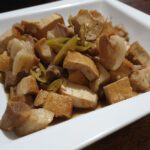 Print Recipe
Tokwa't Baboy
Tokwa't baboy is considered as Filipino comfort food. Some would contend that it makes for a great partner to an alcoholic beverage but I am of the mind that it is best served with steaming hot rice.
Ingredients
1/2

kilo

pork

(liempo is best but I used menudo cut)

salt

pepper

5

cups

water

1/2

kilo

firm tofu

(also called tokwa)

cooking oil

1 1/2

cups

vinegar

1/4

cup

light soy sauce

4

tbsps.

sugar

1

medium

onion, chopped fine

2

pieces

long green chilis, sliced

(siling pangsigang)
Instructions
Rub the meat with salt and pepper and set aside for a few minutes.

Take a pot, place the seasoned meat in it, and pour in the water. Boil the meat to soften it. When you see brown stuff floating on top skim it off and throw it away. I keep a bowl handy just for this.

Once the water is reduced and the meat is softened remove the pot from the heat. Scoop out the meat and place it in a strainer to drain.

Place oil in a wok or frying pan and fry the tofu until golden brown. Do not overcook or the tofu will become too tough. Once cooked put the tofu on a paper towel to rest and drain.

Take out your chopping board and knife and cut up the meat into bite-sized pieces and set aside. Do the same for the tofu. When cutting the tofu, do not put too much pressure on the knife. Move the knife back and forth like a saw to cut through it gently. Both the meat and the tofu should be approximately the same size.

In another frying pan or wok combine the vinegar, light soy sauce, sugar, a dash of salt, and 1 cup of pork broth. This is the water used to boil the pork in. Simmer until the sugar is completely melted.

Add the onion, green chilis, and meat. Mix and simmer for a few minutes. Add the tofu, mix gently, then remove from heat. I would just turn off the stove.

Take a serving dish and scoop out the meat and tofu and arrange it. Pour the sauce on top.
Notes
In the original recipe, it was recommended that the tofu be added much later, in the serving dish.  I chose to add it directly to the sauce because, I, personally, like it when the tofu is incorporated with the flavor of the sauce. 😀