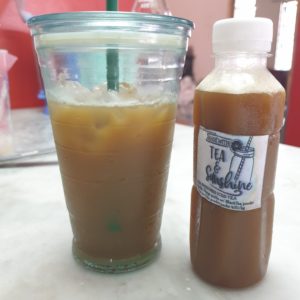 A classmate of mine from high school, Isay Palma Singson, makes brewed iced tea which she used to sell to hotels and restaurants before ECQ.  This bottled iced tea is made with three key ingredients: water, black tea, and sugar.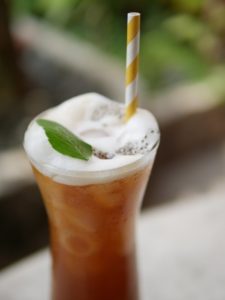 This drink is very appropriate for the summer and is best enjoyed in a frosted glass filled to the top with ice, ice, and more ice!  Do you want it nice and frothy?  Give the bottle a good shake first before you pour.  Btw
It tastes nothing like commercially available iced tea blends that you could buy at the supermarket.  There is no chemical taste (or aftertaste) because all the ingredients are all-natural.
Personally, I found this iced tea to be on the sweet side but then 1) iced tea is usually sweet and 2) My usual preference is more tea, less water, light on the sweetener.  It is just a preference, really.  I let others in my family try this iced tea, too, and they say it tastes good.
One pet bottle is good for two servings.  I have no idea how much this costs but if you are interested and would like to try and order this you may contact Isay Singson directly on Facebook Messenger.