May is upon us again, which only means that the spotlight shines extra bright once more for our moms as we celebrate Mother's Day. If you're thinking of the right surprise to give to the number one lady in your life, then we're here to give you a clue. It starts with an A and ends with an R. It's a kitchen favorite, one that will help our number one chef flex her amazing cooking skills.
It's Air Fryers! At least according to the latest data from OnBuy which has reported a big surge of sales on this nifty appliance weeks before the annual celebration of Mother's Day. This kitchen must-have has boomed in popularity in the last couple of years and for good reasons. In this article, we'll walk you through all its benefits by putting the focus on one of the most powerful models in the market: The Breville Smart Oven Air Fryer. Below are all the reasons why you should #BringBrevilleHome.
Air frying is a better alternative to traditional deep frying.
When you deep fry, oil is heated into high amounts that can lead to increased concentrations of inflammatory compounds that are absorbed by the food. With air frying, you minimize the use of oil or can even entirely remove it. The way it works is that it uses convection heat to cook food, similar to the way a fan oven works.
It can help you cook healthier versions of your favorite fried dishes.
Regular consumption of deep-fried food has been known to be correlated to the development of chronic ailments like cardiovascular disease. The use of convection heat to fry can create the same crispy exterior that we all love so much from our favorite fried treats. The result is healthier versions of meals with lower saturated fat that are better for our diets.
It's versatile!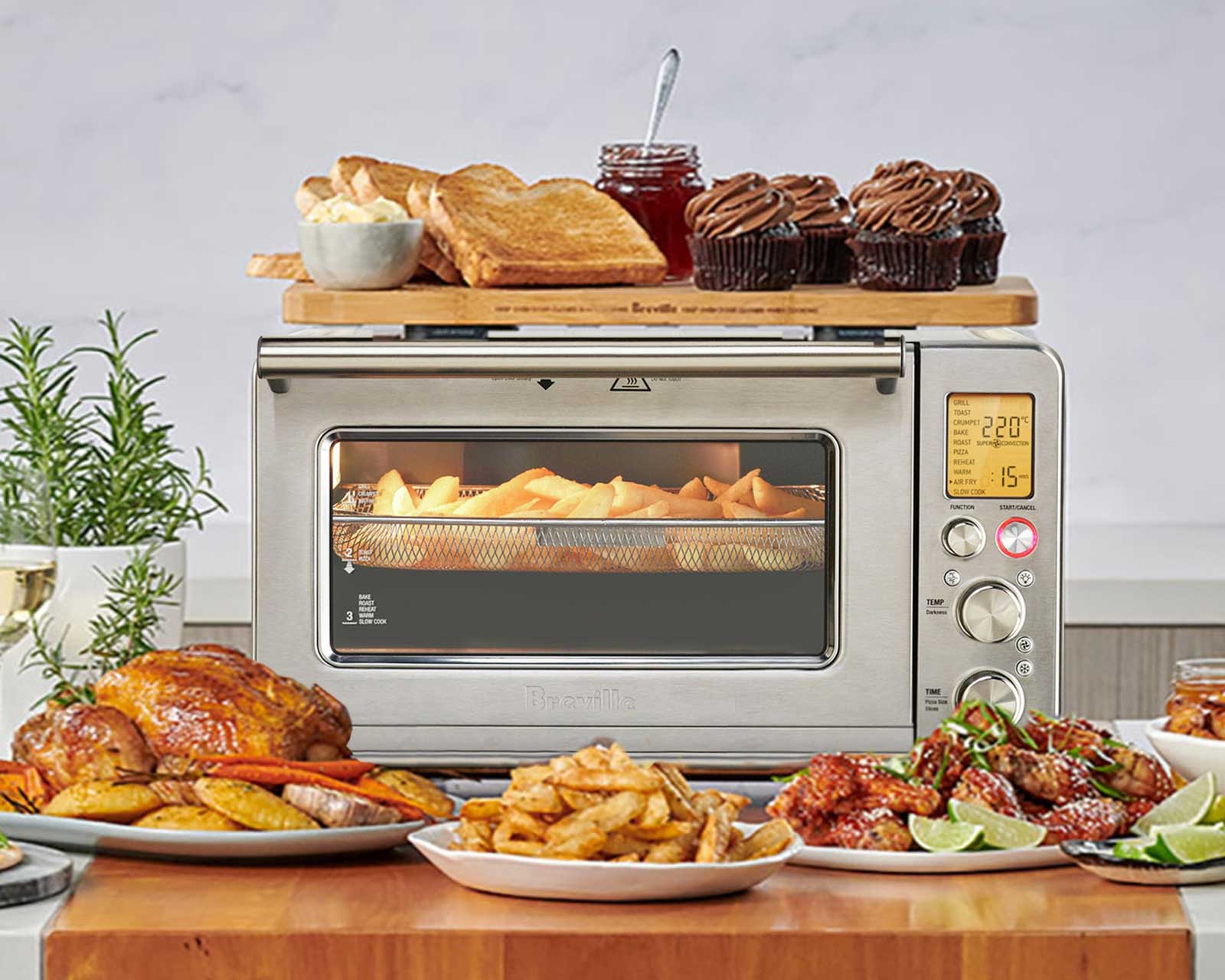 The versatility of this kitchen partner is something all cooking aficionados will definitely appreciate. The Breville Smart Oven Air Fryer is a perfect example of this. On top of having a dedicated air frying setting, this unit from the premium home lifestyle brand comes with nine other cooking functions which include toast, roast, bake, crumpet, and even pizza. It's like having 10 appliances, all in one powerful model.
It's perfect for busy bees.
Talking about power, the Smart Oven Air Fryer is also ideal for anyone who wants to be efficient with cooking. Its dual-speed convection feature reduces cooking time by 30 percent which is perfect for all busy moms out there.
It's very user-friendly.
Air frying food is a no-brainer because you can easily pick settings for your recipe. The Breville Smart Oven Air Fryer takes this a notch higher with its Element IQ System which has a smart algorithm that creates the ideal cooking environment for a range of different cooking techniques. Forget about cold, uneven spots and ideal rack positions. This air fryer does it all for you and more, regardless of your cooking skills.
This Mother's Day, give the gift of innovation to the special woman in your life by turning their dream kitchen into a reality. We already know that our moms are geniuses when it comes to creating meals that we love, but it doesn't hurt to bring home an equally smart partner that can help them make even more cooking wonders. If you're into it, you can even go the extra mile and take a crack at cooking by bonding with her to make your own Mother's Day feast.
It's time to #BringBrevilleHome this Mother's Day. Want to know more about the Smart Oven Air Fryer? Visit their website to get the full deets about this appliance. Don't forget to also follow their official Facebook and Instagram to get updated on their other releases.