Someone once asked me if we (the family) have considered going vegan and I told them that my family will eat anything I prepare (so they say) so it often depends on what I end up cooking.
Lately, I've been trying out different ways to cook tofu, as those of you who follow my blog can tell. 😀  My latest attempt is a dish I like to call Tofu ala Bistek.  Bistek is the Filipino word for Beef Steak.  The process is not quite the same but the end result is.
Tofu ala Bistek is best served with warm rice.  Enjoy!
Notes:
Cutting up the tofu into strips was my choice because I wanted to make sure the marinade would really seep in and I wanted it to look like meat slices.
Using pancake syrup adds that little bit of sweetness the dish needs but you could try using sugar or honey, I suppose.  Feel free to experiment!
You can marinate the tofu for less than an hour, of course, but note that it will be more flavorful the longer you keep it in the marinade.
I wouldn't suggest marinating it overnight as the tofu might crumble or become too salty.  I cannot be sure of this, of course, as I have never done that myself. 😀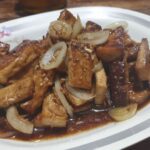 Print Recipe
Tofu ala Bistek
A new take on a Filipino standard.
Equipment
cutting board

wide, shallow dish or tray

skillet or shallow pan
Ingredients
500

grams

firm tofu

1/3

cup

light soy

1/3

cup

rice vinegar

4

tsp

pancake syrup

maple or corn syrup is good

2

tsp

sesame oil

3

cloves

garlic, minced

1

tbsp

ginger, minced or grated

1

onion, sliced into rings

oil for frying

You want to use a neutral oil like vegetable oil
Instructions
Prepping
Place some paper towels on a cutting board and put the tofu on top of it and cover with another paper towel. If you have a cast-iron pan or any heavy pan, place the pan on top of the paper-covered tofu and just let it sit. The weight of the pan will press out the excess water while you work on the marinade.

In a bowl combine light soy, rice vinegar, syrup, sesame oil, garlic, and ginger. Mix and set aside.

Remove the heavy pan from on top of the tofu and remove the paper towels. You will notice that the towels are now wet from the water that was pressed out of the tofu.

Slice the tofu into thin slices (not too thin or it will just crumble!) and arrange them flat on a shallow dish or tray and pour the marinade on top. Cover and set aside for up to an hour.

If you are like me and you tend to forget if the waiting time is long then cover the dish/tray and put it in the ref while it is marinating.
Time to cook!
Place your skillet or shallow pan (a wok would also do nicely!) on the stove and heat it.

Place oil in the pan and once hot enough place the marinated tofu (only) flat and leave it alone to brown for a few minutes. Don't get tempted to move it around or the tofu might crumble. Allow it to brown and set. Do not throw away the marinade as you will need it later.

After a few minutes and the bottom is browned, gently flip each piece and brown that side, too. You can tell that the tofu is ready to flip when it starts to shrink a little and look puffy like a pillow.

When both sides are browned, take your sliced onion and scatter the rings on top. Pour the marinade over everything and cover for about a minute.

Your dish is now ready to be served and eaten. 🙂
If you try this recipe, please make sure to tag me on social media @slvrdlphn with the hashtag #slvrdlphnrecipes.  Let me know, too, if you come up with a tweak that would make this dish different but still delicious!