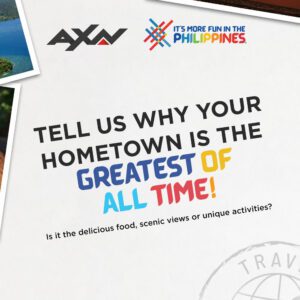 A new challenge is making the rounds on Instagram and Tiktok as Filipino netizens proudly show off why their hometowns are the G.O.A.T. or the Greatest of All Time.
The social media trend, which uses the hashtags #AXNHometownGOAT and #[Name Of Your Hometown]GOAT, is inspired by the new Original Production by AXN Asia, in collaboration with the Department of Tourism (DOT), My Hometown Is G.O.A.T., which premiered last week on November 4.
My Hometown Is G.O.A.T. follows Megan Young and Mikael Daez, Gazini Ganados, and the PBA Moto Club comprised of Marc Pingris, JC Intal, Jayjay Helterbrand, and Rico Maierhofer as they revisit their hometowns in Zambales, Zamboanga, and Pangasinan along with nearby provinces, to showcase the best that these destinations have to offer.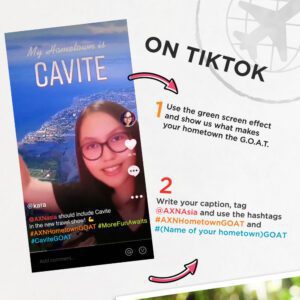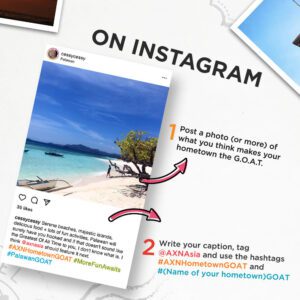 In the spirit of the show, AXN Asia is calling on their Filipino audiences across the region to take to Instagram and TikTok to talk about their own hometowns in the Philippines and what they think to make these places the G.O.A.T.
Popular content creators on Instagram and TikTok have already contributed to the trend with their own posts that share both interesting trivia as well as personal memories about their respective hometowns.
Some early joiners of the trend include Davaoeña beauty and lifestyle content creator Dewanie Kim Catapang, Bulaceña pilot and beauty queen Chezka Carandang, professional surfer Philmar Alipayo from Siargao, and Kapampangan photographer Mark Canlas.
Their posts have been subsequently featured on AXN Asia's website, where the channel is pulling posts from Instagram and Tiktok containing the hashtag #AXNHometownGOAT in hopes of creating a comprehensive collection of hometown memories from Filipinos all over the Internet. The collection of posts can be found on  www.axn-asia.com/MyHometownIsGOAT/Conversation.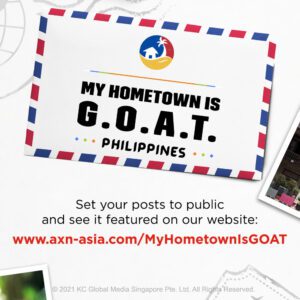 Just like these social media stars, you can also show off your hometown and get featured by AXN Asia. On TikTok, use the Green Screen filter to give your audience a virtual tour of your hometown's best assets. On Instagram, share a carousel of photos or videos of your hometown, along with a caption of your personal take on why it's the greatest of all time. On both platforms, remember to tag @AXNAsia and use the hashtags #AXNHometownGOAT and #[Name Of Your Hometown]GOAT (e.g., #ManilaGOAT) to allow the channel to feature your content.
Viewers can catch the remaining episodes of the travel and lifestyle reality series My Hometown Is G.O.A.T. every Thursday and Friday at 8.30PM on AXN Asia, available on SKYCable, Cignal, G-Sat, and various cable operators nationwide, or on AXN Asia's YouTube channel every following Wednesday, starting tonight.
Bookmark the YouTube playlist: bit.ly/AXNHometownGOATPlaylist
About KC Global Media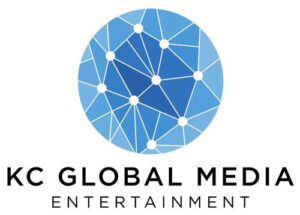 KC Global Media Entertainment LLC is a global multi-media company based in the United States. The brainchild of former Sony executives Andy Kaplan and George Chien, KC Global Media Asia (KCGM Asia) is primed to be Asia's leading entertainment hub through the production, distribution, and programming of quality, ground-breaking content.
Backed by more than two decades of industry experience, KCGM Asia boasts an impressive portfolio of premium pay-TV channels in South-East Asia and Korea, including English-language general entertainment network AXN, anime channel Animax, South Korea's ONE, and Japanese entertainment channel GEM. By combining award-winning and well-loved entertainment formats with extensive knowledge and insight into the Asia Pacific market, KCGM Asia is paving the way for a new standard of entertainment in Asia and beyond.
Website: www.KCGlobalMedia.com | Facebook: @KCGlobalMedia | Instagram: @KCGlobalMediaAsia | Linkedin: @KCGlobalMediaAsia
About AXN

AXN features exclusive top-rated drama series, blockbuster features, reality programs, and groundbreaking original productions. The channel appeals to a discerning audience seeking content that is smart, intriguing, and unexpected, and all delivered close to U.S telecasts.
From SEAL Team and MacGyver to The Amazing Race Asia and Asia's Got Talent, AXN is defined not by a genre, but by an attitude that truly redefines action. In Asia, AXN is enjoyed in 38 million households across 17 territories and is available in both SD and HD.
Website: AXN-Asia.com | Facebook: @AXNAsia | Twitter: @AXNAsia | Instagram: @AXNAsia | YouTube: AXN Asia | TikTok:  @AXNAsia