Lent is upon us and for most Christians, this is a time when we abstain from red meat.  Instead of preparing the same dish over and over again here are some tuna recipes that can put variety and excitement to our dining table.  For part 1 of this series, we will "visit" Italy and Mexico.
Creamy Tuna and Mushroom Pasta
In our household, creamy tuna pasta is a regular weekend dish prepared by my sister.  It is easy to prepare and is quite filling! In addition, one can of tuna feeds so many people. Try it yourself.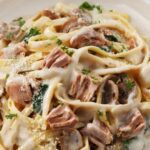 Print Recipe
Creamy Tuna and Mushroom Pasta
Ingredients
1/4

cup

Magnolia Gold Butter Unsalted

2

tbsp

minced onion

1/2

cup

sliced button mushrooms

1

can

298 g cream of mushroom soup

2

cups

Magnolia Fresh Milk

1

can

185 g San Miguel Del Mar Tuna Chunks in Oil

1

tbsp

chopped dill leaves optional

1/4

kg

spaghetti noodles cooked according to package directions
Instructions
In a saucepan over medium heat, melt butter and sauté onion and mushrooms.

Add cream of mushroom and milk. Mix until lump-free and cook for 5 minutes.

Stir in tuna and dill, and simmer until sauce thickens, stirring occasionally.

Toss the pasta into the sauce.
Notes
Substitute dill leaves with chopped parsley or basil leaves.
Add sliced black olives for a flavor boost.
Tuna Tacos
This recipe is for soft tacos but you can easily change it up into the regular tacos by buying hard shells instead.  I would make this for a quick meal.  If you have a busy day ahead, this is one of those you could eat on the run as it is essentially a folded sandwich.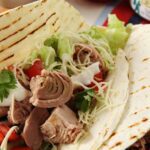 Print Recipe
Easy Tuna Tacos
Ingredients
1/3

cup

Magnolia Real Mayonnaise

2

tsp

chopped garlic

6

pieces

small flour tortillas or pita bread lightly warmed or toasted

1/2

cup

shredded lettuce leaves

1/2

cup

sliced cucumber

1

piece

(100 g) tomato, sliced

1

can

(185 g) San Miguel Del Mar Tuna Chunks in Oil drained
Instructions
To make garlic sauce, mix mayonnaise and garlic then set aside.

In the center of each flour tortilla, place 1 to 2 tablespoons of lettuce leaves, cucumber slices, tomato slices, and tuna. Drizzle with garlic sauce.

Fold tortilla to secure filling.
Notes
Keep tortillas in the refrigerator for up to a week and freeze for up to 3 months.
To warm store-bought tortillas:

heat in a dry hot pan over medium heat for about 30 seconds on each side,
wrap stacked tortillas in a paper towel, then wrap in aluminum foil and bake at 300°F for about 10 minutes and
cover tortillas with a damp paper towel and microwave for 1 minute.

Buy salad greens that are bright in color, leaves crisp, free of blemishes, and smell fresh.
The hard taco shell can also be replaced with nacho chips and this tuna taco can be transformed into a tuna taco salad, yum!
Most people don't have tortilla wraps available in the fridge but most homes have the ingredients to make one.  Click HERE for my paratha/roti recipe.  FYI, there is very little difference between a paratha and a tortilla wrap so if you can make one, you can easily make the other. 😀