For the second part of the series, we will visit Vietnam and Thailand and try making some finger food starting with Vietnamese spring rolls.
Vietnamese spring rolls are super easy and require no cooking at all.  Of all the ingredients the most difficult one to find is possibly the rice paper wrapper but most groceries carry it.
Fresh Vietnamese Spring Rolls with Tuna
Every time I eat at Pho Hoa, I always make sure to order fresh spring rolls for starters.  They are light and tasty and crunchy!  I rarely, if at all eat this as a viand, but it could be.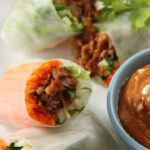 Print Recipe
Fresh Spring Rolls with Tuna
Ingredients
1

can

(185 g) San Miguel Del Mar Tuna in Water, drained

3

tbsp

Hoisin sauce

5

pieces

rice paper wrappers

1

piece

100 g cucumber, sliced into thin strips

1

piece

80 g carrot, sliced into thin strips

5

sprigs

cilantro or basil

1

cup

shredded lettuce leaves

2

tbsp

Magnolia Real Mayonnaise
Instructions
Mix tuna and 2 tablespoons of hoisin sauce together. Set aside.

Fill a shallow bowl with warm water. Dip rice paper carefully until it softens.

Lay rice paper on a flat surface and while soft, quickly place 1 to 2 tablespoons of tuna in the center, then add several pieces of cucumber strips, carrot strips, cilantro, and shredded lettuce.

Fold the sides of the wrapper inwards, then tightly roll. Repeat with the remaining ingredients.

To make hoisin sauce, mix together the remaining hoisin and mayonnaise. Serve with the spring rolls.
Notes
Use a combination of fresh vegetables and herbs in making the rolls such as cucumber, red radish, bean sprouts, bell peppers, zucchini, shredded cabbage, leeks, and mint leaves.
Do not oversoak rice papers in water as it will become soggy and sticky. Space assembled spring rolls apart to prevent them from sticking to each other.
Hoisin from scratch (about 1/2 cup): 1/4 cup soy sauce, 2 tbsp peanut butter or black bean paste, 1 tbsp brown sugar, honey or molasses, 2 tsp rice wine or white wine vinegar, 2 tsp sesame oil, 1 clove garlic minced or 1/8 tsp garlic powder, 1/8 tsp ground black pepper, 1 tsp hot sauce
Thai Fish Cakes
Thai fish cakes are like seafood burgers.  This is a good recipe for lent.  You could use any fish but canned tuna is an easy solution.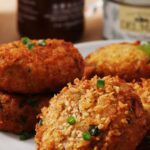 Print Recipe
Thai Fish Cakes
Ingredients
1

can

(185 g) San Miguel Del Mar Tuna Chunks in Water, drained

1

tbsp

Sriracha or preferred chili sauce

2

tbsp

chopped green onions

2

tbsp

chopped Thai basil leaves or coriander leaves

1

piece

Magnolia Brown Egg

1/4

cup

breadcrumbs

1

cup

Golden Fry Palm Oil
Instructions
Combine tuna, Sriracha, green onions, basil, egg, and breadcrumbs in a bowl. Break tuna apart with a fork to mix well. Form mixture into 2 tablespoon patties. If the mixture is runny, add more breadcrumbs.

Heat oil in a frying pan, fry fish cakes until golden brown. Serve with extra Sriracha sauce.
Notes
Substitute breadcrumbs with mashed potatoes for a different texture.
Chill patties to set before frying.