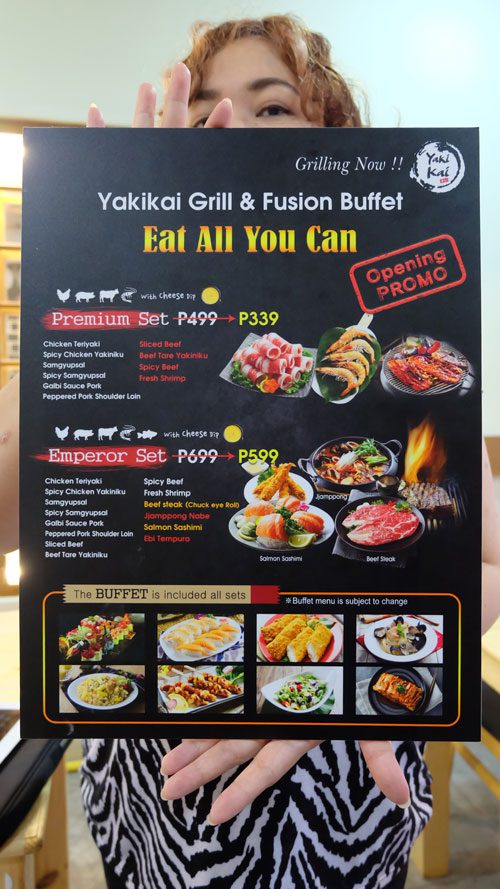 Yakikai – sounds Japanese, right? But it's actually a fusion restaurant, mostly Korean, some Japanese. Yes, it is another unlimited meat grill restaurant but it's definitely worth a visit.
Yakikai is located just off Tomas Morato. If your thinking that it looks like a home rather than a restaurant, that's the feel you also get when you walk in. It felt like I had walked into a home prepared for a large buffet party, with a Korean/Japanese theme.
Among the things I loved about Yakikai:
It's very bright. This is a family restaurant. I would be very comfortable bringing my entire family over to come and eat at Yakikai.
It's very clean. Very important when you are eating out.
The owner, Sam, was very hands-on. She's a wonderful host. She made sure that we had everything we needed and made sure we were comfortable.
The buffet – most grill restaurants don't have a buffet. Yakikai had a fair selection and it tasted delicious to me.
I walked out without smelling like the food we cooked. The excellent ventilation is an absolute plus in my book.
Ebi tempura – no restaurant that says they have Japanese food is good in my books unless they have Ebi tempura. But that's just me 🙂
The price is fair. You get the unlimited meat to grill + the buffet. That's a lot!
Yakikai is currently open daily from 4 PM to 2 AM. Their address is 122 Scout Dr. Lazcano Street, Sacred Heart, Quezon City. You can call 02 82469069 ext:634