I met up with some friends today and we tried the food at Yoshi-Meat-Su. It's a tiny restaurant but I don't think anyone will really mind the size of the place. It's the kind of place to bring your barkada (friends) and have a few drinks.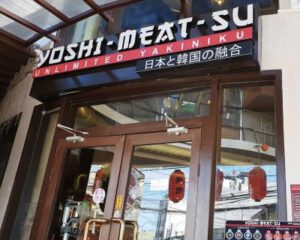 Expecting a Korean grill place, I was surprised by the Japanese name and exterior decorations. I asked and found out that the name of the restaurant is a play on the name of shogun Ashikaga Yoshimitsu. He had the Golden Pavilion built.
The restaurant is located at the corner of Tomas Morato and Scout Fernandez. It is highly accessible. Parking availability depends on time but is free.
Yoshi-Meat-Su has the unlimited meat concept we love but is a fusion of Japanese (Yakiniku) and Korean (bbq grill) food. This is perfect for someone like me who enjoys Korean bbq and LOVES Ebi Tempura (as my sister can attest)! Yes, the Ebi tempura is unlimited too!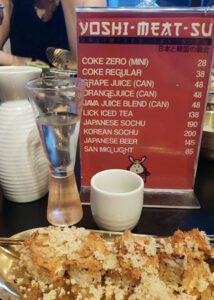 The drinks were good too! We tried all the flavors of Lick Iced Tea they had. Then we tried the Japanese and Korean shochu.  It was fun trying to identify the differences in taste and impact.
Overall rating of the place: 4 of 5 stars.
Things I love about Yoshi-Meat-Su:
Fair price with unlimited dishes and not just meat.
More choices. I love the Ebi tempura and cheese-filled balls. Did I mention the Ebi tempura?
You can stay at the table and eat as long as you want (no time limit).
The digital ordering system per table – no need to call for assistance to ask for additional food
Currently, Yoshi-Meat-Su only has 1 store but the company already has plans to expand so you may soon find a branch near you.
#Yeahkiniku #YoshiMeatSu #WazzupPilipinas # Korean #Japanese #Foodies