Today's spotlight is on debut author Marily Gayeta and her upcoming book, The Saga of the Blue Dress, an intriguing series of stories about four women connected by a blue dress.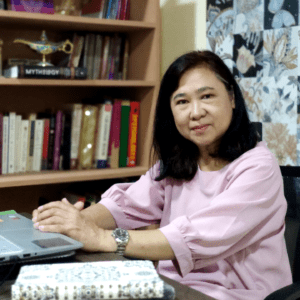 Welcome to Hearth and Home Buddies, Marily. Please tell us about yourself.
Well, I am Marily Sasota Gayeta. So, I have been a teacher for a long, long time. Actually, I got back less than 2 years ago from abroad. I was an OFW teacher. I worked in Libya for 3 years and then in Oman for 8 years. So I was in OFW for 11 years. I'm currently in Bataan, where I was born and raised.
The Saga of the Blue Dress is your first published work, right?
Yes, this will be my first published book. Actually, I have been writing essays. That's my genre. But like many authors I procrastinated, then I gave up and decided to write fiction – writing a novel.
What made you decide to publish the book now and through self-publishing?
Being a published writer has always been my dream but I couldn't find the time to do it because I was busy with teaching. Teaching is a very demanding job. And now I'm 57 years old. When will I publish it? So it's the reality of getting old. Maybe I've already spent 75% of my life or more than that. So Kailan pa (when will it happen)? I have procrastinated for so long.
I found her (Kath of PaperKat Books) on Facebook. I did some checking and well there's something about her. Something in her posts really attracted me – the grit, you know? She was saying, "Let me hold your hand. We'll finish this book." And that is what most writers need.
We keep on procrastinating. We keep on having alibis. I'm 57 years old. I've been writing since I was a kid but have not published anything. So that promise, that promise of Kath, "I'll hold your hand. We will do this."
So she pushed you over into publishing with that promise?
Yes, yes.
What inspired you to write The Saga of the Blue Dress?
Dahil kuripot ako (Because I am thrifty), I'm fond of Ukay-ukay (secondhand clothes shops). I would sometimes wonder, "Who was the previous owner of this dress? And what kind of life did she have?" And it started from that.
You created a series of stories about the owners of the dress. Are any of the stories based on real-life events?
Actually, they are all straight from my imagination.
Why was this the right time to publish this book? What's the message of this book and why now?
As you see the book is about women's struggles. And so we're at the time when women are, of course, we have long been accepted for our talents and abilities. So it's to elevate women's status further, to create awareness about women – more awareness about the different issues they face.
In the book, there are several social issues that are discussed. Which social issue was the one that was the most significant for you?
For me, it's the mental health of women, the aging seamstress. I think a lot of women are experiencing that – not necessarily on that scale. And here in the Philippines, some senior people have that problem, but maybe they are not getting the medical care they need and they deserve. So that's one thing that I would like to emphasize. The mental health issues of women, especially senior women.
What does literary success mean to you?
It would mean a lot to me to be recognized by literary bodies; by the academe. it's not that I'm dependent on external validation, but we need it. We need the opinion of experts. We need the judgment, the assessment of experts. So if they would recognize it, it would mean so much to me.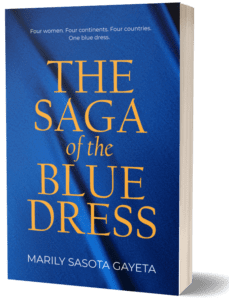 Did you know how the story would end?
My writing style is circuitous. I start at the end. I already have my ending and then I work back to the middle and then to the beginning of the story. I think I had decided the ending of the novel first.
I wrote that book during my last 4 months in Oman, from July to October 2021. I had already resigned from my job. I was waiting for the pandemic to subside. So I was there alone. I had these 4 months to myself.
What were the challenges in bringing this book to life?
It was connecting them seamlessly because, in my first draft, there were a lot of holes. So it was quite a struggle connecting the dots; making it cohesive. Because the ideas were there, the stories were there, but how to connect them?
What advice would you give to aspiring authors?
Do not procrastinate. Keep on reading. Be a voracious reader and It will help you a lot in improving your language in improving your imagination and creativity. So keep on reading.
The Saga of the Blue dress will be out in October 2023. It will be available for purchase through PaperKat Books.